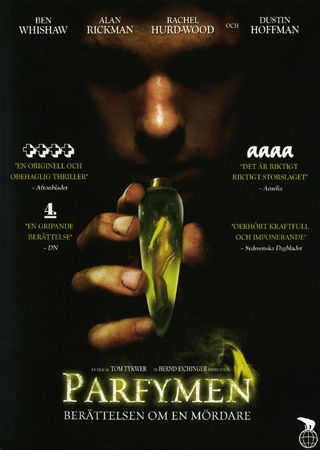 Perfume: The Story of a Murderer (Drama, Kriminalare, Thriller): 
Jean-Baptiste Grenouilleu föds utan kroppsodör men med ett unikt och starkt luktsinne som låter honom känna av olika dofter på långt håll. Alla lukter blir till en besatthet vilket får honom att vilja skapa den perfekta doften, nämligen den av en ung kvinna. 
BETYG och RECENSION: 
Perfume: The Story of a Murderer är en annorlunda film från 2006 som tar oss tillbaka till mitten av 1700-talet där en mördare försöker utvinna lukter ur döda kroppar för att fånga den unika och personliga doften. I huvudrollen som Jean-Baptiste Grenouille ser vi Ben Whishaw som vägs upp av Dustin Hoffman, Alan Rickman, Rachel Hurd-Wood och Karoline Herfurth som har en liten men ack så betydelsefull roll. Filmen tar sig fram med hjälp av en berättarröst som görs av John Hurt och däremellan är dialogerna få och händelserna enkla men detaljrika, men det tar dock tid innan filmen kommer igång vilket gör att jag hinner tappar lite av intresset. 
En luktbesatt mördare föddes i Frankrike under 1738
.  
Perfume: The Story of a Murderer ger till en början skenet av att utspela sig under en smutsig och illaluktande tid där kläderna ändå lyckas vara eleganta och vackra precis som flickorna som bär dom, men utöver det framgår det mesta som unket, dystert och mörkt. Därefter blinkar en del färgstarka och vackra miljöer förbi vid ett fåtal tillfällen som lyser upp tillvaron och fångar min blick i takt med morden som då också börjar uppstå. Dock är många av händelserna på tok för stillsamma och repeterande då Jean-Baptiste Grenouille blandar ihop sina parfymer om och om igen och jag hade nog förväntat mig både mer och ett något annorlunda resultat. Ett obehag om inget annat men det uteblir tyvärr också och jag finner därför nästan filmen lite tråkig emellanåt.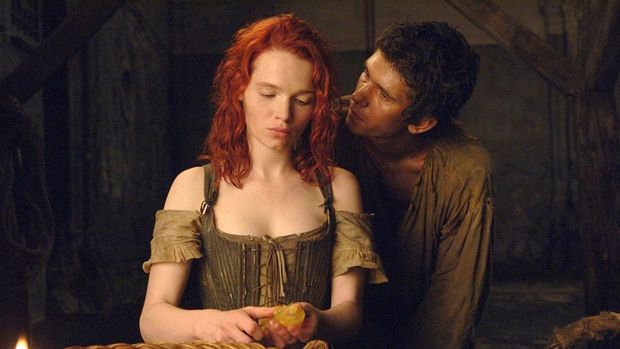 Den unga och oskyldiga flickan som startade allt
. 
För att vara ett kostymdrama så är Perfume: The Story of a Murderer inte vidare vacker och för att vara en thriller med romantiska men sjuka inslag så är den inte vidare obehaglig vilket lämnar mig något besviken och uttråkad. Skådespelarna presterar åtminstone bra och trots alla brister så är filmen ändå väldigt unik och därför också sevärd. Men jag hade helt enkelt velat ha lite mer spänning och en kortare speltid för att kunna känna mig helt nöjd och därför förblir filmen inte mer än lite medelmåttig i slutändan.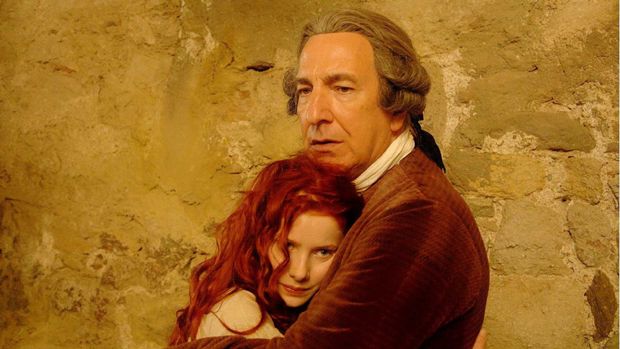 Ung, rödhåringa och oskyldiga flickor har de bästa dofterna
. 
FILMINFORMATION:
Originaltitel: Perfume: The Story of a Murderer.
Svensk titel: Parfymen: Berättelsen om en mördare.
Baserad på boken: Das Parfum, av Patrick Süskind.
Taglinea: "He lived to find beauty. He killed to possess it", "Based on the best-selling novel", "Enter an intoxicating world of passion, obsession and murder" och "Obsession can cause the unthinkable".
Genre: Drama, Kriminalare, Thriller.
Skådespelare: Ben Whishaw, Dustin Hoffman, Alan Rickman, Rachel Hurd-Wood, Karoline Herfurth m.fl.
Regissör: Tom Tykwer.
Speltid: 141 min (DVD).
Språk: Engelska.
Undertext: Svenska.
Åldersgräns: Rekommenderad från 15 år.
Premiärår: 2006.
Sv. Biopremiär: 26 Januari 2007.
Distributör: Nordisk Film.
DVD release: 15 Augusti 2017.
Extramaterial (DVD): - .