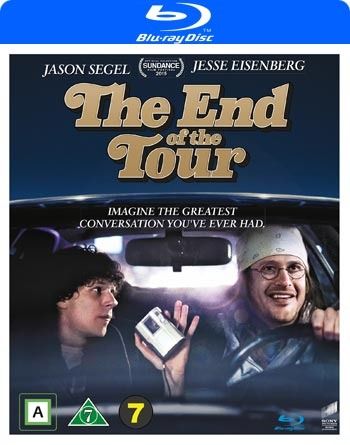 The End of the Tour (Biografi, Drama):
Filmen bygger på verkliga händelser. 
Under 1996 följer Rolling Stone-reportern David Lipsky med författaren David Foster Wallace under hans bokturné efter hans framgång med boken "Infinite Jest". Det blir en 5 dagars lång intervju mellan de både skribenterna och allt eftersom växer svartsjukan och konkurrensen då de diskuterar allt ifrån kvinnor, depressioner och kändisskapets för och nackdelar. 
BETYG och RECENSION:
The End of the Tour är en dramafilm från 2015 som bygger på David Lipsky memoarer "Although of Course You End Up Becoming Yourself". I filmen möter vi Rolling Stone reporter David Lipsky som gestaltas av Jesse Eisenberg och författaren David Foster Wallace (Jason Segel) som precis har gett ut sin framgångsrika bok "Infinite Jest" i mitten av 1990-talet. Men filmen tar sin början vid 2008 då David Lipsky nås av nyheten om att David Foster Wallace har begått självmord, något som får honom att tänka tillbaka på den fem dagars lång intervju som skedd mellan de båda under 1996 och det är också det som filmen sedan handlar om. 
David Foster Wallaces får sällskap av David Lipsky under sin bokturné
. 
The End of the Tour är en rätt så stillsamma film som mer eller mindre tar oss igenom vardagssituationen för en författare som i mina ögon är aningen speciell... och väldigt tråkig. Under två timmar få vi glida med på en enformig intervju mellan David Lipsky och David Foster Wallace och följa med på deras resa som praktiskt taget inte ger mig någonting. Deras diskussionsämnen är innehållslösa och intetsägande men ändå lyckas de båda forma någon form av kompisrelation som mer eller mindre påminner om något som kan likna en krystad manlig kärlek. Skådespelarna är dessutom stela och de känns obekväma i sina konstiga roller då de mest gör ingenting samtidigt som Jesse Eisenberg ger ifrån sig det ena nervösa skrattet efter det andra. Kanske beror hans nervösa beteende på att Jason Segels karaktär ger ifrån sig konstiga repliker som som får honom att verka lite bakom flötet och dessutom ger han skenet av att vara både smutsig och äcklig vilket inte är smickrande. 
Kärleksfulla blickar byts mellan karaktärerna som både är "heterosexuella".
.  
Jag hade en känsla av att jag inte skulle gilla The End of the Tour redan innan jag ens hade började titta på filmen och även om jag önskade att jag skulle ha fel så kunde jag inte har mer rätt. Stillsamma filmer som handlar om tråkiga karaktärer och ointressanta vardagssaker är nämligen inget som tilltalar mig och det blir inte bättre av att jag inte känner till personerna som filmen handlar om. Så nej, The End of the Tour's enformiga och händelselösa stillhet är alltså inget för mig men om du kanske känner till personerna i fråga så kanske åtminstone du kan finna filmen intressant.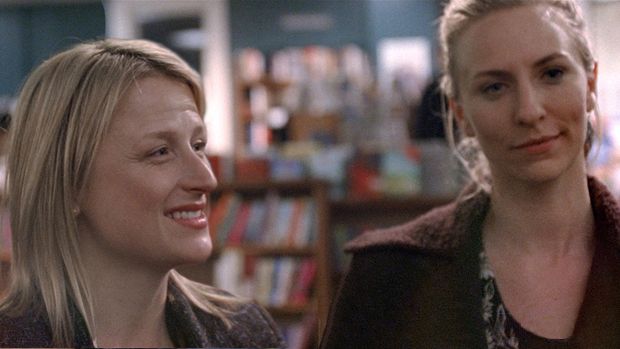 Även tråkiga författare har vänner och fans
.
© 2015 Entertainment Rights Holdings, LLC
FILMINFORMATION:
Originaltitel: The End of the Tour.
Svensk titel: The End of the Tour.
Baserad på boken: Although of Course You End Up Becoming Yourself, av David Lipsky.
Tagline: "Imagine the greatest conversation you've ever had".
Genre: Biografi, Drama.
Skådespelare: Jason Segel, Jesse Eisenberg, Anna Chlumsky, Joan Cusack, Mamie Gummer m.fl.
Regissör: James Ponsoldt.
Filmmanus: Donald Margulies.
Speltid: 106 min (Blu-ray).
Språk: Engelska.
Undertext: Svenska.
Land: USA.
Åldersgräns: Rekommenderad från 11 år.
Premiärår / Utgivningsår: 2015.
Sv. Biopremiär: - .
Distributör: Sony Pictures.
DVD och Blu-rayrelease: 14 Mars 2016.
Extramaterial (DVD): Deleted Scenes.
Extramaterial (Blu-ray): Deleted Scenes.