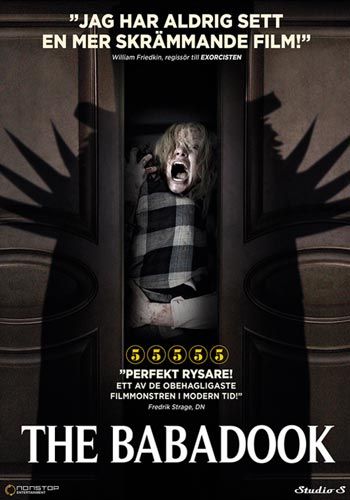 The Babadook (Drama, Rysare, Skräck, Thriller):
Det har gått 6 år sedan Amelias man dog i en olycka och hon plågas fortfarande av sorgen efter hans bortgång, och det blir inte lättare av att deras son har ett våldsamt temperament som få andra människor att titta snett. När han sedan börjar prata om en varelse som kallas för The Babadook börjar hans mamma få  nog på riktigt, vill säga fram tills dagen då hon inser att barnets hemska fantasifigur finns på riktigt. 
BETYG och RECENSION:
Med smickrande omdömen kallas The Babadook för den obehagligaste och mest skrämmande filmen på länge, men de som har uttalat sig där måste ha varit höga på sin egna fotsvett. Det finns nämligen inget som är obehagligt med filmen i fråga utan hela upplägget är mer som ett sömnpiller i sprutform, vill säga extra snabbverkande, och det går inte heller att skryta om skådespelarna som får sina karaktärer att känns aningen tillgjorda.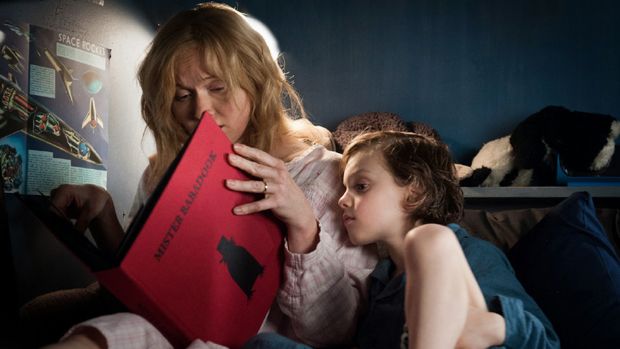 Mamma Amelia (Essie Davis) läser en spöklik godnattsaga för sonen Samuel (Noah Wiseman)
. 
The Babadook är en indiefilm vilket mer eller mindre betyder att den inte är påkostad och det syns också tydligt på det "monster" som medverkar. Man använder sig här av enkla metoder vilket gör hela filmupplevelsen något skrattretande och det är dessutom svårt att avgöra när filmen utspelas. Kanske är det i nutid men kläderna och tekniken i huset pekar mot ett något äldre årtal vilket också gör mig något förvirrad då det inte framgår. Men visst, allt är inte pest eller kolera då det trots allt finns en liten del av filmen som är något underhållande och det är just de bitarna som påminner om ett psyksjukt beteende. Dock är denna upplevelsen på tok för kort för att man ska hinna fastna för innehållet och därefter blir man mest bara förbannad på hur dumt och händelselöst allt faktiskt är. Så förutom ett litet ljus någonstans i mitten så har The Babadook praktiskt taget ingenting att erbjuda sina tittare.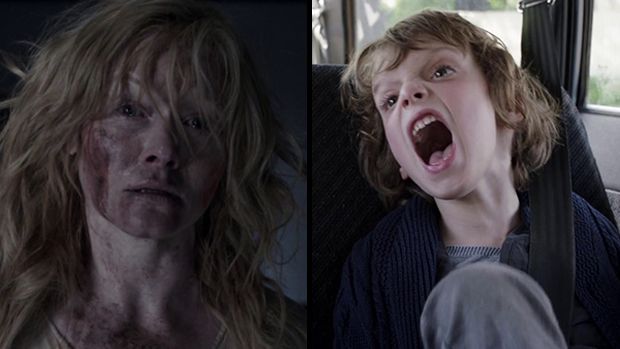 Det psyksjuka beteendet måste ligga i släkten
.
Om vi sedan tittar på filmens tempo så rullar The Babadook inte bara fram oerhört sakta utan den saknar också all form av spökaktivitet under den första timmen, något som inte är särskilt smickrande med tanke på att detta är, eller åtminstone ska föreställa en skräckfilm. Och för att sammanfatta det hela så kan vi nog säga att The Babadook är en stillsamma och tråkig godnattsaga som kommer få dig att somna långt innan filmen ens har kommit igång, vilket den förövrigt faktiskt aldrig gör.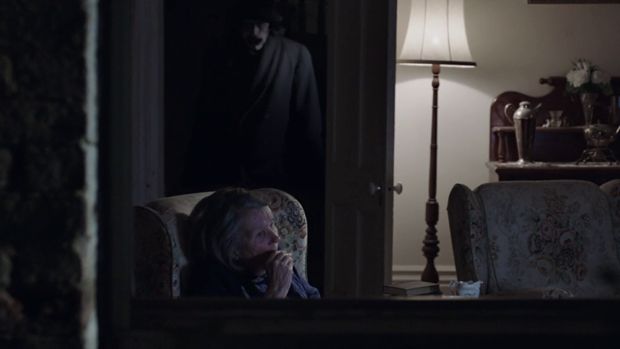 En farbror i en regnrock ska tydligen vara skrämmande
.  
FILMINFORMATION:
Originaltitel: The Babadook.
Svensk titel: The Babadook.
Tagline: "If it's in a word. Or it's in a look. You can't get rid of ... The Babadook".
Genre: Drama, Rysare, Skräck, Thriller.
Skådespelare: Essie Davis, Noah Wiseman, Hayley McElhinney, Daniel Henshall, Barbara West m.fl.
Regissör: Jennifer Kent.
Filmmanus: Jennifer Kent.
Speltid: 89 min (DVD).
Språk: Engelska.
Undertext: Svenska.
Land: Australien, Kanada.
Åldersgräns: Rekommenderad från 15 år.
Premiärår / Utgivningsår: 2014.
Sv. Biopremiär: - .
Distributör: Studio S.
DVD-release: 30 Mars 2015.
Extramaterial (DVD): - .