Ride Along 2 (Action, Komedi): 
Polisaspiranten Bens bröllop närmar sig med stormsteg när han följer med sin blivande svåger James till Miami för att stoppa en knarklangare som förse Atlantaborna med droger, allt för att bevisa att även han har det som krävs för att kunna bli en kriminalinspektör. 
BETYG och RECENSION: 
Ride Along hade tydligen en större framgång än vad jag först hade trott och nu är det därför dags för uppföljaren: Ride Along 2. Vi få återigen se Kevin Hart och Ice Cube i rollerna som Ben Barber och James Payton, två poliser som kanske inte alltid kommer överens och efter en del missöden på fältet står nu inte bara deras karriärer på spel, utan även det kommande bröllop mellan James syster Angela (Tika Sumpter) och Ben. Så förbered er på en del pinsamma och överdrivna incidenter där humorn kanske inte är i toppklass men lite småroligt blir det trots allt ändå då dessa två försöker lösa ett brottsfall och hinna hem till bröllopet.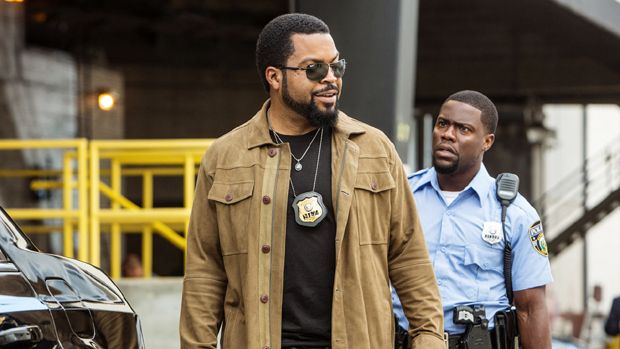 Polisen Ben vill bli som sin blivande svåger James, en kriminalinspektör.  
Precis som med Ride Along så är budgeten även här något låg och man kan därför inte förvänta sig allt för mycket av specialeffekterna. Filmen är därför nästan enbart uppbyggd på dum humor, överdrivna moment och några stela incidenter. Men kombinerar man allt detta så lyckas faktiskt Ride Along 2 locka fram ett och annat leende och ett fåtal skratt som gör filmen underhållande för stunden.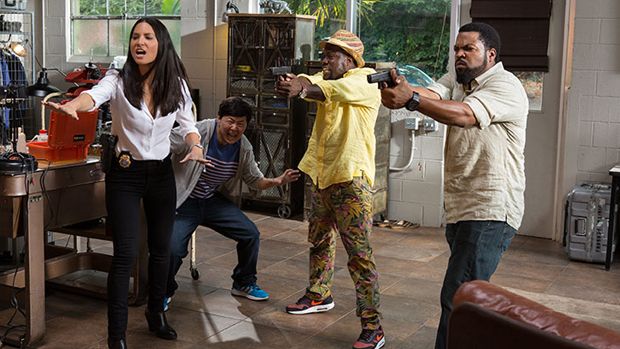 Polisarbetet i Miami är kanske inte så professionellt
.  
Skådespelsmässigt så är Ride Along 2 inte direkt någon vinnare men det är något med den stela och omatchande duon som gör att filmen får sin små poäng. Ice Cue och Kevin Hart är precis som sina karaktärer helt olika och i osynk men för engångsskull så är detta något som filmen vinner på. Deras miss-matchande personligheter väger upp för varandra och den bristande personkemin gör att man nästan njuter av den obekväma atmosfären som fyller rummet. Så letar du efter en lättsam och dum underhållning där du inte behöver tänka eller ta något på allvar, då är Ride Along 2 en komedi för dig. 
Ben, James och Maya (Olivia Munn) går in undercover
. 
FILMINFORMATION:
Originaltitel: Ride Along 2.
Svensk titel: Ride Along 2.
Tagline: "The brothers-in-law are back".
Genre: Action, Komedi.
Skådespelare: Ice Cube, Kevin Hart, Tika Sumpter, Benjamin Bratt, Olivia Munn, Ken Jeong m.fl.
Regissör: Tim Story.
Speltid: 102 min (Blu-ray).
Språk: Engelska.
Undertext: Svenska.
Åldersgräns: Rekommenderad från 11 år.
Premiärår: 2016.
Sv. Biopremiär: 29 Januari 2016.
Distributör: Universal.
DVD och Blu-rayrelease: 13 Juni 2016.
Extramaterial (DVD): Deleted Scenes • Ride Along With Us: Hilarious New Recruitment Video • Gag Reel.
Extramaterial (Blu-ray): Deleted Scenes •  Ride Along With Us: Hilarious New Recruitment Video • Gag Reel • Behind The Scenes of Ride Along With Us • Kevin And Cube: Brothers-In-Law • Inside Black Hammer Vision • Feature Commentary.
FILMSERIEN BESTÅR AV: