The Confirmation (Drama, Komedi):  
8-åriga Anthony måste spendera helgen med sin alkoholiserade far Walt medan hans mamma Bonnie och hennes nya man Kyle åker iväg på en katolsk reträtt, och det blir en helg fylld av problem.  
BETYG och RECENSION: 
The Confirmation är en kanadensisk dramakomedi från 2016 som tyvärr saknar humor i alla de färger och former då inte ens svart humor går att utläsa. Filmen må vara skriven och regisserad av Bob Nelson men den kunde lika väl ha varit skriven av en skolpojke med en underlig, enformig och fantasilös verklighetsuppfattning. I huvudrollerna ser vi Clive Owen och den unge Jaeden Lieberher som far och son Walt och Anthony medan de tillsammans är på jakt efter en stulen verktygslåda i samhällets sunkiga kvarter.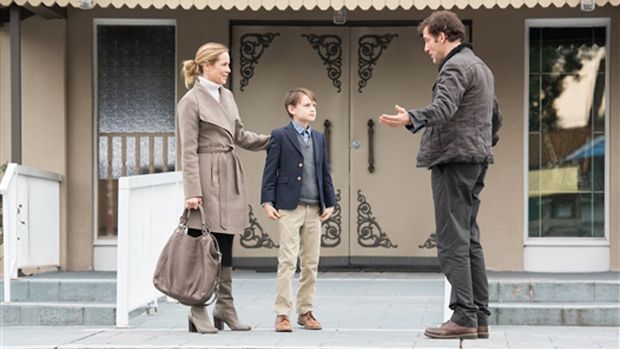 Anthony ska, mot sin vilja, spendera helgen med sin alkoholiserade pappa
. 
The Confirmation rullar på oerhört lugnt och stilla medan skådespelarna och dess karaktärer är lika tråkiga som en fläck vitmossa på en upprutten brädbit. De är både tystlåtna och när de väl bestämmer sig för att prata så är diskussionerna ordfattiga, ointressanta och nästan helt slumpmässiga. Den unge Jaeden Lieberher som vi ser i rollen som den 8- årige Anthony saknar dessutom delar av det normala kroppsspråket som för en människa framåt vilket gör hans karaktär svår att läsa av, och Clive Owen mest ser uttråkad ut i rollen som den alkoholiserade pappan Walt, men han lyckas åtminstone göra ett starkt intryck då det kommer till att gestalta den trasiga familjen. 
Två uttråkade personer vandrar längsmed gatorna
.  
The Confirmation är alltså en oerhört enkel film men den har ändå ett djup som borde beröra mig, men eftersom jag finner hela upplägget så pass tråkigt som jag faktiskt gör så kan jag inte ta storyn till mig. Jag må kunna hålla mig kvar framför teven under resans gång men när filmen sedan väl är slut så känns det som bortkastad tid. 
I slummen på jakt efter en stulen verktygslåda
.  
© 2015 Sapphire Fire Limited
FILMINFORMATION:
Originaltitel: The Confirmation.
Svensk titel: The Confirmation.
Tagline: - .
Genre: Drama, Komedi.
Skådespelare: Clive Owen, Jaeden Lieberher, Maria Bello, Patton Oswalt, Stephen Tobolowsky, Spencer Drever, Michael Eklund, Ryan Robbins, Tim Blake Nelson, Robert Forster, Matthew Modine m.fl.
Regissör: Bob Nelson.
Speltid: 97 min (DVD).
Språk: Engelska.
Undertext: Svenska.
Åldersgräns: Rekommenderad från 11 år.
Premiärår: 2016.
Sv. Biopremiär: - .
Distributör: Universal.
DVD-release: 11 Juli 2016.
Extramaterial (DVD): - .