Brooklyn (Drama, Romantik): 
Under 1950-talet lämnar den unga Eilis tryggheten på Irland för ett jobb i Brooklyn där hemlängtan blir stor, men när hon springer på kärleken försvinner längtan av hemlandet, familjen och vännerna allt mer. Dock slits hon snart mellan två världar och hon tvingas då att välja mellan de två länderna och människorna som finns i dom.
BETYG och RECENSION: 
Brooklyn är ett drama från 2015 som tar oss med till 1950-talets titel där den irländska Eilis (Saoirse Ronan) har bosatt sig. Hon har lämnat sitt hemland och sin familj för jobbets skull och i ensamheten på andra sidan jorden möter hon snart kärleken som får henne att slitas allt längre ifrån familjen hemma på Irland. Detta gör filmen både djup och känsloladdad samtidigt som den dock är något händelselös. 
Trots att Eilis har många människor runtomkring sig i Brooklyn så känner hon sig ensam
. 
Brooklyn's historia är enkel men tungt då sorgen och ensamheten ständigt tränger sig på för den unga Eilis som har övergivet allt som hon känner till. Hon vill hem till familjen och vännerna men ändå stanna kvar hos kärleken och detta blir förr eller senare till ett val som hon måste göra. Man kan nämligen inte både äta kakan och behålla den. Saoirse Ronan som syns i den något tystlåtna huvudrollen som Eilis förmedlar sina känslor bra via kroppsspråk men hon saknar tyvärr kemi med sin motspelare Emory Cohen som gestaltar hennes kärleksintresse Tony, och detta gör att deras relation blir något svag. Men utöver detta så presterar samtliga parter i filmen bra och på varsitt håll förmedlar de alla en stark känsla som berör.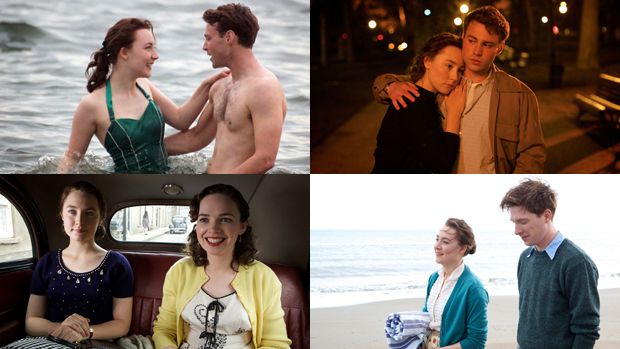 Eilis slits mellan kärleken i Brooklyn och familjen och vännerna på Irland
. 
Vid sidan om djupet som beröra mig så har Brooklyn även en otroligt vacker miljö som gör filmen till lite av ett ögongodis och femtiotalsmodet tilltalar mig dessutom på ett bra sätt. Men filmens något saktfärdiga framfart, tillsammans med den bristande personkemin, gör att betyget trycks ned något och allt som allt så är Brooklyn en trevlig lite film som kunde ha bidragit med lite mer.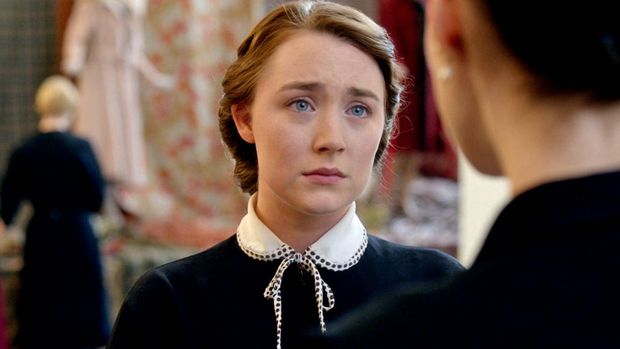 Saoirse Ronan berör med sitt kroppsspråk
. 
FILMINFORMATION:
Originaltitel: Brooklyn.
Svensk titel: Brooklyn.
Baserad på boken: Brooklyn, av Colm Toibin.
Tagline: "Two countries, two loves, one heart".
Genre: Drama, Romantik.
Skådespelare: Saoirse Ronan, Emory Cohen, Domhnall Gleeson, Eileen O'Higgins m.fl.
Regissör: John Crowley.
Filmmanus: Nick Hornby.
Speltid: 111 min (Blu-ray).
Språk: Engelska.
Undertext: Svenska.
Land: USA, Kanada, Irland.
Åldersgräns: Barntillåten.
Premiärår / Utgivningsår: 2015.
Sv. Biopremiär: 26 Februari 2016.
Distributör: 20th Century Fox.
DVD och Blu-rayrelease: 4 Juli 2016.
Extramaterial (DVD): Promotional Featurettes • Audio Commentary by John Crowley • Gallery.
Extramaterial (Blu-ray): Deleted and Extended Scenes with Optional Commentary by John Crowley • Gallery.