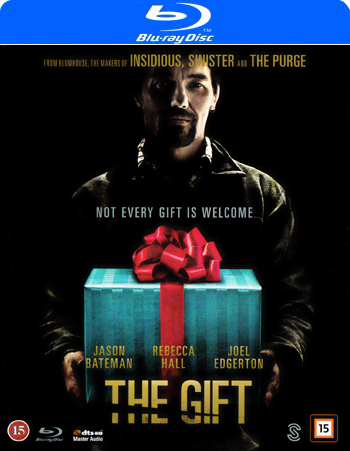 The Gift (Mysterium, Thriller):
Det gifta paret Simon och Robyn har precis flyttat in i ett nytt hus då de möter Gordo som är en gammal skolkamrat till Simon. Gordo börjar snart tränga sig på och vad som till en början verka vara en oskyldig gest blir snart till obehagliga möten där saker från det förflutna har en stor inverkan på Gordos beteende.
BETYG och RECENSION:
The Gift är en thriller från 2015 som är skriven och regisserad av Joel Edgerton som även syns i rollistan tillsammans med bland annat Jason Bateman och Rebecca Hall som här spelar det gifta par Simon och Robyn. Paret har precis startat ett nytt liv i ett nytt hus då Simons gamla skolkamrat Gordo (Joel Edgerton) plötsligt börjar dyka upp oanmält, något som till en början verkar vara aning harmlöst men alla har vi våra skäl och en baktanke med vårt agerande som här också sakta kommer fram till ytan. The Gift är förövrigt något av en psykologis thriller vars huvudämne jag inte kan avslöja utan att spoila hela filmen, vilket också gör den något svårrecenserad.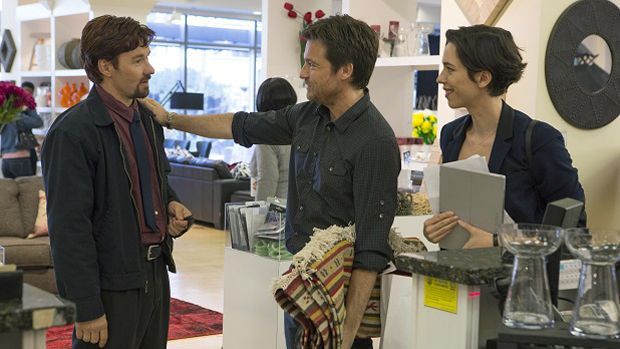 Simon och Robyn möter av en slump Gordo i en affär, något som kommer leda till en del oväntade möten
.
The Gift rullar på något sakta men filmen har en mystik över sig vilket ändå gör den intressant samtidigt som hela känslan är något obehaglig. Filmen bjuder inte på några större händelser men det är de små sakerna som gör att den kommer till sin rätt och som i sin tur också väcker ett intresse hos oss åskådare då vi sakta tar oss fram i handlingen som avslöjar små detaljer allt eftersom. Även om jag inte är vidare förtjust in några av de medverkande skådespelarna så har vi dom att tacka för obehaget som byggs upp och detta eftersom de alla gör sina roller bra, och speciellt Joel Edgerton som ligger bakom hela kalaset.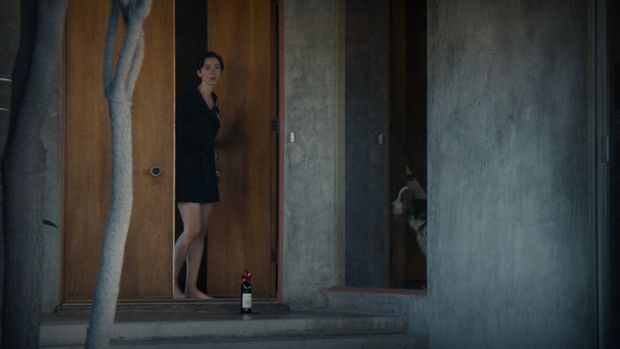 Små gåvor från Gordo börjar dyka upp
.  
Även om The Gift inte rusar fram eller tar mig med storm så lyckas filmen fånga mig och göra mig uppmärksam då mysteriet sakta uppdagas bit för bit, något som den också vinner på i slutändan. Sättet som filmen är uppbyggd på påminner nämligen om den gamla goda tiden då vi inte behövde en massa saker för att fastan i handlingen och The Gift klarar alltså av att hålla sig vid liv tack vare de små och enkla redskapen som här finns tillgängliga, så som ett litet ljud och bara en känsla av att vara bevakad. The Gift är alltså en film som jag kan rekommendera eftersom den visar att less is more.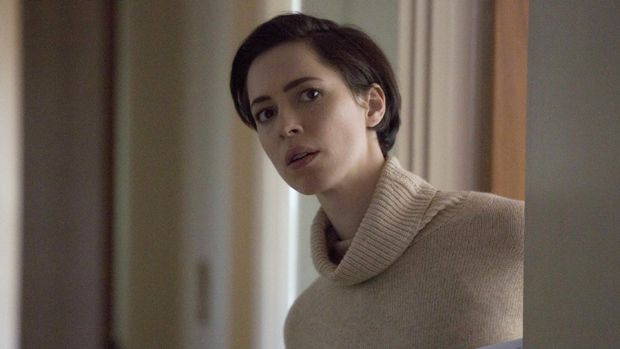 Robyn får känslan av att Gordo bevakar henne
.
FILMINFORMATION:
Originaltitel: The Gift.
Svensk titel: The Gift.
Taglines: "Not Every Gift Is Welcome", "The Sins Of The Past Will Become Your Present" och "Just Because You're Done With The Past Doesn't Mean The Past Is Done With You".
Genre: Mysterium, Thriller.
Skådespelare: Jason Bateman, Rebecca Hall, Joel Edgerton, Allison Tolman, Tim Griffin, Busy Philipps m.fl.
Regissör: Joel Edgerton.
Filmmanus: Joel Edgerton.
Speltid: 108 min (Blu-ray).
Språk: Engelska.
Undertext: Svenska.
Land: Australien, USA.
Åldersgräns: Rekommenderad från 15 år.
Premiärår / Utgivningsår: 2015.
Sv. Biopremiär: 2 October 2015.
Distributör: Scanbox.
DVD och Blu-rayrelease: 1 Februari 2016.
Extramaterial (DVD): Alternate Ending • Deleted Scenes • Karma for Bullies • The Darker Side of Jason Bateman.
Extramaterial (Blu-ray): Alternate Ending • Deleted Scenes • Karma for Bullies • The Darker Side of Jason Bateman.