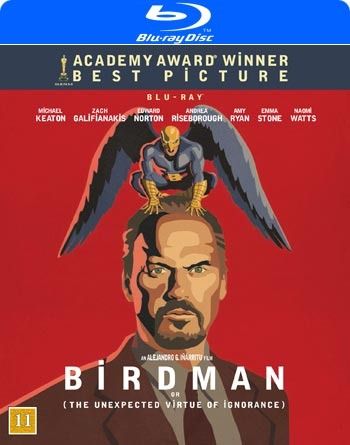 Birdman: Or (The Unexpected Virtue of Ignorance) (Drama, Komedi):
Skådespelaren Riggan Thomson slog igenom stort när han gestaltade den ikoniska superhjälten Birdman på vita duken, men det va flera år sedan och hans karriär har dalat sedan dess. I hopp om att återfå sin status på stjärnhimlen ska han nu regissera en teaterföreställning på Broadway, men dagarna innan premiären är hektiska då han slåss mot sina inre demoner och sitt stora ego samtidigt som han försöker lappa ihop både familj och karriär.
BETYG och RECENSION:
Birdman är ett flerfaldigt Oscarsbelönat drama från 2014 som minst sagt är speciell. Filmen känns inte som en film i mina ögon utan snarare som en dokumentär... eller något i stil med det. Handlingen är enkel men skruvad då den en gång stora Riggan Thomson (Michael Keaton) försöker återfå sin status i Hollywood med hjälp av en Broadwayuppsättning, ett projekt som stöter på en hel del hinder samtidigt som han tycks ha problem med sina egna hjärnspöken. Filmen får mig att undra om detta är sanningens baksidan av det mindre lyckade livet i Hollywood och om framgång gör folk galna, och om vi ska se till Birdman så tycks kändislivet göra en rätt så skruvad.
Riggan gör allt för att återfå sin stjärnstatus
. 
Birdman var nominerad till hela 9 Oscars och tog hem 4 av dessa, bland annat för bästa film och manus men betyder detta verkligen att filmen är bra? Tyvärr måste jag säga nej. Handlingen känns luddig och på tok för enkel för att vara så skruvad som filmen faktiskt är och när det kommer till att skapa en inlevelse så misslyckas Birdman med att nå ut till mig. Birdman får visserligen ett plus i kanten när det kommer till smink och kostym. Karaktärerna ser nämligen allmänt slitna och vanliga ut och den där klassiska glamouren som annars alla har i filmer är som bortblåst och det ser jag som en fördel, men annars så har filmen inte mycket som tilltalar mig. Den segar fram och trots att det försiggår en massa drama bakom kulisserna så händer praktiskt taget ingenting och jag kan därför inte förstå filmens framgång. Skådespelet är visserligen bra men karaktärerna känns ändå inte verkliga, de är som sagt bara för skruvade och konstiga med sina dagdrömmar och andra storhetsvansinne.
Riggan och hans hjärnspöken
. 
Det som utmärker Birdman är de långa tagningarna vilket i sin tur få filmen att framstå som om allt är inspelat i ett streck och jag måste säga att bara det gör filmen unik och annorlunda, men bra blir det dessvärre ändå inte. Det är långa meningslösa dialoger som inte är vidare intressanta, galenskap och problem samt en del dramatiska romanser som hade kunnat vara intressant om inte allt annat hade varit så dumt och meningslöst, så överlag så är allt bara trist och grått och detta gör också att Bidman försvinner på soptippen bland det andra skräpet.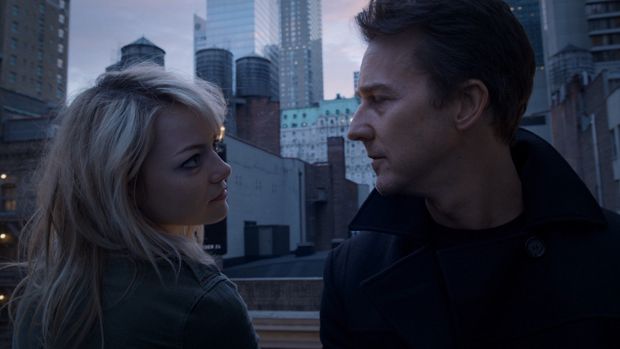 En gnutta romantik
.
FILMINFORMATION:
Originaltitel: Birdman: Or (The Unexpected Virtue of Ignorance).
Svensk titel: Birdman.
Baserad på boken: What We Talk About When We Talk About Love, av Raymond Carver.
Tagline: - .
Genre: Drama, Komedi.
Skådespelare: Michael Keaton, Emma Stone, Zach Galifianakis, Edward Norton, Naomi Watts, Andrea Riseborough, Amy Ryan m.fl.
Regissör: Alejandro G. Iñárritu.
Filmmanus: Alejandro G. Iñárritu, Nicolás Giacobone, Alexander Dinelaris Jr. och Armando Bo.
Speltid: 119 min (Blu-ray).
Språk: Engelska.
Undertext: Svenska.
Land: USA.
Åldersgräns: Rekommenderad från 11 år.
Utgivningsår: 2014.
Sv. Biopremiär: 9 Januari 2015.
Distributör: 20th Century Fox.
DVD och Blu-rayrelease: 1 Juni 2015.
Extramaterial (DVD): Birdman: All-Access • Gallery: Chivo's On-Set Photos.
Extramaterial (Blu-ray): Birdman: All-Access • Gallery: Chivo's On-Set Photos • A Conversation with Michael Keaton and Alejandro G. Iñárritu.