Carrie (Skräck):
Baserad på boken av Stephen King.
Efter flera år av mobbing och en sträng och religiös uppfostran upptäcker 17-åriga Carrie att hon kan förflytta saker med tankekraften och på skolbalen passar hon på att ta ut sin hämnd.
1976 satte filmatiseringen av Stephen Kings bok Carrie skräck i biobesökarna och detsamma hände mig när jag såg filmen som 10-åring runt 1994, men idag har tyvärr inte filmen riktigt samma effekt på mig. Carrie är och kommer alltid förbli en obehaglig liten filmupplevelse men skräcken som den en gång spred har dessvärre svalnat något. Det kan vara för att jag känner till storyn och för att den inte längre överraskar mig eller så är det helt enkelt så att jag idag kräver lite mer. Men i vilket fall som helst så är ändå Carrie en väldigt bra film som alla bör se.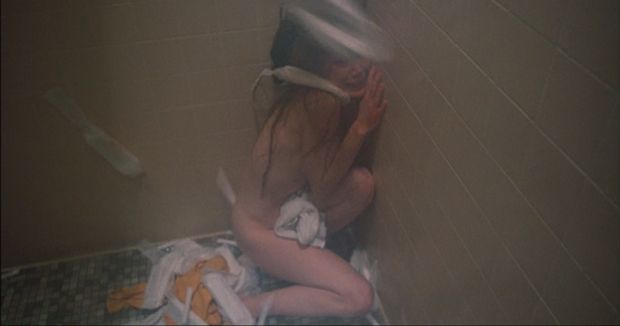 Carrie är mobbad och förtryckt
. 
Filmen handla som vi alla säkert redan vet om den utsatta flickan Carrie (Sissy Spacek) som mer eller mindre behärskar telekinesi (förflytta saker med tanken) och på så vis kan hon också ta ut hämnd på både sina klasskamrater och sin mamma som har plågat henne under flera år. Carries mamma Margaret (Piper Laurie) är djupt religiös och utför en sträng uppfostran som begränsar Carries levnadssätt och som i sin tur får folk att titta snett på henne, därav mobbningen gentemot henne. Ja, Carrie må vara udda och speciell men hade folk vetat vad hon kan åstadkomma så hade de nog behandlat henne annorlunda. Jag ser idag Carries hämnd som ljuv och inte det minsta skräckinjagande, men annat var det första gången jag såg filmen. Trots detta så utstrålat ändå Carrie ett obehag som biter sig fast och jag skulle även vela kalla filmen för en skräckklassiker som kanske inte är skrämmande men ändå obehaglig.
Att ösa grisblod över Carrie var ett misstag
.
Sissy Spacek som vi ser i titelrollen gör Carrie perfekt med sitt speciella utseende och sin taniga kropp och till skillnad från nyinspelningen som kom 2013 så känns hon helt rätt i rollen som original Carrie. I rollen som Carries mamma Margaret ser vi Piper Laurie Och även om hon är ond på ett religiöst sätt så känns hon inte tillräckligt ond och elak. Hon är både kärleksfull och elak på en och samma gång men hon är inte tillräckligt ond för att väcka rollen tillräckligt till liv vilket gör mig lite besviken, men underliga och udda är de båda två i alla fall.
Margaret känns inte tillräckligt elak
. 
Carrie må ha satt skräck i folk när den kom ut 1976 men idag funkar det kanske inte riktigt lika bra. Trots detta så är filmen ändå en klassiker som man bör se om man inte redan har gjort det och även om den kar kommit upp i åren så lever den sig kvar och förbli en obehaglig lite historia som biter sig fast. Carrie är och kommer antagligen alltid vara en av Stephen Kings starkaste berättelse och vi kan idag bara hoppas att fler ska lyckas åstadkomma detsamma.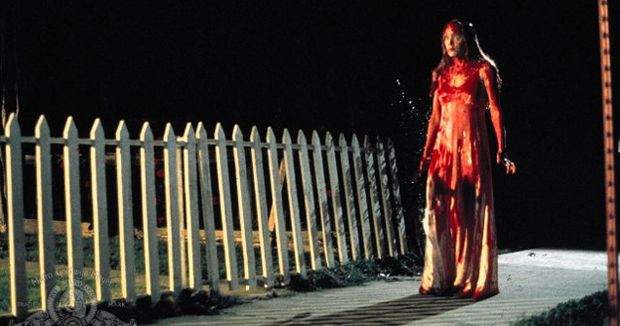 If you got a taste for terror, than you have a date with Carrie...
FILMINFORMATION:
Originaltitel: Carrie.
Svensk titel: Carrie.
Tagline: "Take Carrie to the prom. I dare you!" och "If only they knew she had the power".
Genre: Skräck.
Skådespelare: Sissy Spacek, Piper Laurie, Amy Irving, William Katt, John Travolta, Nancy Allen, Betty Buckley, P.J. Soles m.fl.
Regissör: Brian De Palma.
Filmmanus: Lawrence D. Cohen.
Speltid: 98 min (Blu-ray).
Språk: Engelska.
Undertext: Svenska.
Produktionsland: USA.
Utgivningsår: 1976.
Åldersgräns: Rekommenderad från 15 år.
Sv. Biopremiär: 13 Februari 1978.
Distributör: SF.
Blu-rayrelease: 16 Oktober 2013 (Blu-ray).
Extramaterial (Blu-ray): Acting Carrie Featurette, Visualizing Carrie: From Words to Images, Singing Carrie: Carrie - The Musical, Theatrical Trailer, Carrie (2013) Theatrical Trailer.
Filmserien består av: Carrie (1976).
                                   The Rage: Carrie 2 (1999).