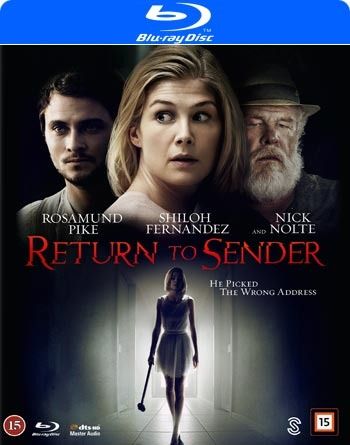 Return to Sender (Drama, Thriller):
Sjuksköterskan Miranda ska gå på en bindedejt men mannen som dyker upp på hennes trappa är inte den han utger sig för att vara. Miranda bjuder in honom och innan hon vet ordet av det är hon ett våldtäktsoffer som överlever med stora skador. Mannen åker fast och för att kunna gå vidare med sitt liv besöker Miranda honom i fängelset, med en baktanke...
 
BETYG och RECENSION:
Rosamund Pike tar ledingen i dramathrillern Return to Sender från 2015 där en sjuksköterska försöker återfå sitt liv genom att besöka sin våldtäktsman i fängelset. Med tanke på Pikes framgång med filmen Gone Girl så hade jag rätt så stora förhoppningar, förhoppningar som mer eller mindre skulle fallera något i takt med filmens stillhet och landa på ett medelbetyg. Men en sak är säker, ger man bara filmen tid så blommar ännu en gång Rosamund Pikes karaktär ut till den tvättäkta psykopat som hon är, och detta är en roll som hon gör väldigt bra.
I tron om att William är hennes blinddejt Kevin bjuder Miranda in sin blivande våldtäktsman
.  
Return to Sender rullar på sakta och stillsamt samtidigt som den bjuder på en del obehagliga scener som dessvärre hamna lite i skymundan av den händelselös handlingen. Filmens styrka är de psyksjuka bitarna som tittar fram lite titt som tätt och är man inte uppmärksam så kan man lätt missa dom. De har en viktig del i handlingen som kommer leda oss rätt innan vi når slutet och hade det inte varit för det avslöjande filmomslaget så hade man kanske inte ens sett dom komma.
Efter våldtäkten börjar Miranda smida planer
.  
Som sagt, filmens styrka ligger helt och hållet i Rosamund Pike som ännu en gång bemästrar rollen som en något rubbad personligheten, men vare sig jag tycker om henne eller ej så är hon ändå något stel och nästan lite tråkig då hon väcker sin udda karaktär Miranda Wells till liv. I övriga roller ser vi bland annat Shiloh Fernandez som våldtäktsmannen
William Finn
 och i rollen som Mirandas pappa
Mitchell Wells
 ser vi den nu något avlagda skådespelaren Nick Nolte, en karktär som vi förövrigt hade kunnat vara utan. Trots en del namn i rollistan så är nämligen
Retur to Sender
en tvåmansshow som styrs upp helt och hållet av två karaktärer, Miranda och William, och kanske hade det gjort filmen gott om fler fick ta större plats i handlingen. Men nu är det som det är och trots många brister så lyckas ändå
Return to Sender
väcka något hos mig. Filmen må vara stillsam men den är ändå lite spännande och obehaglig på sina ställen och det är också det lilla som räddar den från att gå under. 
Nick Noltes karaktär blinkar förbi obemärkt och utan funktion, precis som så många andra
. 
FILMINFORMATION:
Originaltitel: Return to Sender.
Svensk titel: Return to Sender.
Tagline: "He picked the wrong address".
Genre: Drama, Thriller.
Skådespelare: Rosamund Pike, Shiloh Fernandez, Nick Nolte, Camryn Manheim, Alexi Wasser, Rumer Willis, Illeana Douglas, Stephen Louis Grush, Donna Duplantier, Ian Barford, Billy Slaughter, Scout Taylor-Compton m.fl.
Regissör: Fouad Mikati.
Filmmanus: Patricia Beauchamp och Joe Gossett.
Speltid: 95 min (Blu-ray).
Språk: Engelska.
Undertext: Svenska.
Land: USA.
Åldersgräns: Rekommenderad från 15 år.
Premiärår / Utgivningsår: 2015.
Sv. Biopremiär: - .
Distributör: Scanbox.
DVD och Blu-rayrelease: 8 Februari 2016.
Extramaterial (DVD): Behind the Scenes.
Extramaterial (Blu-ray): Behind the Scenes.