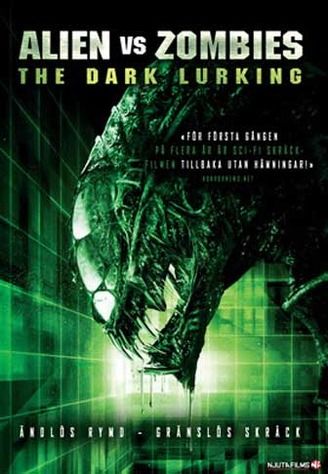 Alien vs. Zombies: The Dark Lurking Originaltitel: The Dark Lurking (Sci-fi/Skräck):
Outpost 320 är ett forskningslaboratorium som finns placerat en mil under ytan och när ett forntida experiment kommer lös släcks anläggningen ner. All kommunikation är bruten och nu måst de få överlevarna hitta en väg ut. 
Gillar du filmer där du blir inkastat i något som praktiskt taget redan har börjat för längesedan och där allt är lika rörigt som en sönder mixad milkshake, och där allt så gott som är stulet från andra filmer? Då är The Dark Lurking en film, en B-film, för dig. Jag är ju som bekant något svag för sketna B-filmer där allt är skrattretande men just på den punkten skiljer sig The Dark Lurking ifrån många andra B-filmer. Filmens miljöer känns konstigt nog nästan påkostad och väl utformad, men att sedan effekterna är något föråldrade och att skådespelarna är sämre än sämst är självklart en annan femma som också förstör hela upplägget. Det blir med andra ord inte charmigt utan mest bara dumt, dåligt och rörigt, allt på grund av att fel skådespelare har satts in i rollerna.
The Dark Lurking är som en salig mix av Aliens, Resident Evil och Cube. Vill säga tre fantastiska filmer men ändå så lyckas inte The Dark Lurking bli bra. Miljöerna i filmen känns som om de vore ett försök till att vara en exakt kopia av Aliens, på gott och ont medan de köttätande zombierna är som stulna ur Resident Evil och vissa av karaktärerna känns som om de vore tagna ur Cube, men ändå så lyckas alltså filmen inte bli bra. Det finns med andra ord potential men den kommer tyvärr aldrig till sin rätt. Hade The Dark Lurking bara innehållit riktiga skådespelare och ett lite bättre och genomtänkt manus så hade filmen faktiskt kunnat bli riktigt bra, men nu blir det kattpiss av hela skiten då replikerna slängs ut som om de vore sopor.
Trots detta så är ändå The Dark Lurking något intressant och även om jag faktiskt hatar filmen så finns där något som lockar mig och få mig att stundvis gilla det jag ser, det funkar med andra ord bra så länge karaktärerna är tysta. Dock räcker det inte till för att göra filmen bra men den är ändå sevärd på ett konstigt och mysko vis. Visst, handlingen hade behövts finputsas då det finns mer hål i manuset än vad det finns i en ost men så länge karaktärerna bara håller truten stängd så funkar allt någorlunda prima. Det är en välkänd men ändå främmande atmosfär som vi här få se och vare sig jag vill det eller ej så fängslas jag av den mörka och skruvade storyn. Men som sagt, det blir ändå inte bra utan detta är bara en B-film i toppklass.