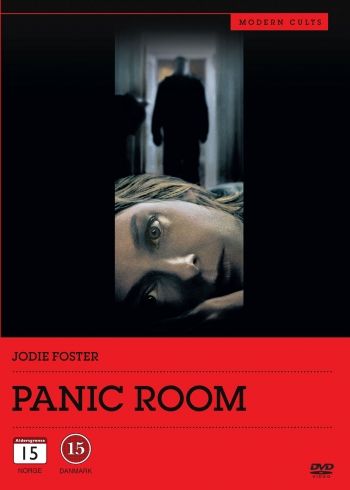 Panic Room (Drama, Kriminalare, Thriller): 
Meg Altman har precis skiljt sig och flyttat till ett nytt hus med sin dotter Sarah, men deras nya liv blir till en mardröm när tre män bryter sig in. De få nu söka skydd i ett panikrum som mer eller mindre blir till ett fängelse eftersom inbrottstjuvarna vägrar lämna huset tomhänta, och det de vill ha råka finnas just i det säkraste rummet i huset. 
BETYG och RECENSION: 
När Panic Room släpptes år 2002 föll jag direkt för filmens enkla men obehagliga atmosfär och nu, x antal år senare, tycker jag fortfarande att den är lika bra. Det spelar ingen roll att jag vet exakt vad som ska hända och ske utan jag njuter av varje obehagliga men enkla sekund.
Känslan som Panic Room tilldelar sina tittare är en mix av obehag, klaustrofobi och panik samtidigt som man få ta del av den kämpaglöd som karaktärerna har. Allt är ändå relativt enkelt och utspelat sig till största del i ett och samma rum, nämligen panikrummet där Meg Altman (Jodie Foster) och hennes dotter Sarah (Kristen Stewart) gömmer sig medan inbrottstjuvarna härjar runt i huset. Och det de vill komma åt, ja det råkar självklart finnas i rummet som ägarna befinner sig i så ingen större överraskning där inte. Men det är spelet och kampen som är lockande och därför är det sak samma att vissa delar är lite dumma, enkelspåriga och förutfattade.
Tjuvarna vill självklart komma åt något som finns i rummet där Meg och Sarah gömmer sig
. 
Skådespelsmässigt så imponeras jag av Jodie Foster då hennes karaktär Meg inte bara kämpar för sitt hus, sitt och dotterns liv utan även mot dotterns sjukdom som självklart väljer att bli kritisk under den mest opassande situationen. Som den diabetiker jag själv är så vet jag att panik, oro och stress är en utlösande faktor som kan kosta oss livet och därför kan jag också intyga att just det inte är överdrivet. Dock imponeras jag inte av Kristen Stewart prestation. Hon må ha varit ny i gemet när Panic Room kom ut men detta bevisar bara att hon står kvar och stampar på samma stel mimik än idag. Men trots bristande prestationer från hennes sida så är och förblir Panic Room en filmfavorit hos mig som jag vill rekommendera trots ett enkelt upplägg. Ibland krävs det inte så mycket för att lyckas, "less is more" som de säger. 
Klaustrofobin slår lätt till när man är inlåst i ett litet rum utan möjlighet att ta sig ut
...
FILMINFORMATION:
Originaltitel: Panic Room.
Svensk titel: Panic Room.
Tagline: "It was supposed to be the safest room in the house".
Genre: Drama, Kriminalare, Thriller.
Skådespelare: Jodie Foster, Kristen Stewart, Forest Whitaker, Dwight Yoakam, Jared Leto, Patrick Bauchau m.fl.
Regissör: David Fincher.
Speltid: 112 min (DVD).
Språk: Engelska.
Undertext: Svenska.
Åldersgräns: Rekommenderad från 15 år.
Premiärår: 2002.
Sv. Biopremiär: 12 April 2002.
Distributör: Sony Pictures.
DVD release: 9 Juni 2004.
Extramaterial (DVD): - .