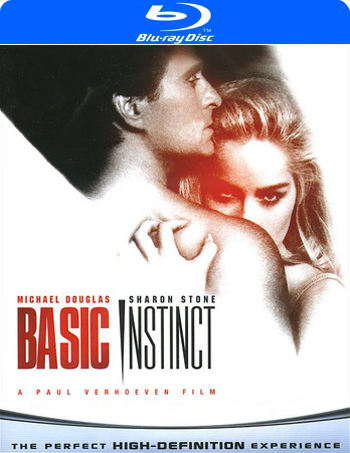 Basic Instinct (Drama, Mysterium, Thriller):
Polisen Nick Curran undersöker mordet på en före detta rockstjärna och överst på listan av misstänkta finns författarinnan Catherine Tramell vars senaste bok har ett identiskt innehåll med mordet. 
BETYG och RECENSION:
Basic Instinct är filmen som gjorde Sharon Stone till den hon är idag, en sexsymbol men som nu har börjat blekna på grund av hög ålder. Under 1990-talet var hon på toppen av sin karriär och trots att just denna filmen kanske egentligen inte är superbra så lyckades den chockera världen med sitt nytänk och sina vågade scener som idag är omtalad och världskända.
Den mordmisstänkta Catherine lyckas linda alla män runt sitt lillfinger
.
Förr kunde man nog kalla Basic Instinct för mjukporr men idag är detta vardagsmat men som innehåller scener som levererar än idag, och vissa av dom är fortfarande de unga pojkarnas onaniredskap. Manuset är originellt för sin tid och spänningen hålls vid liv från början till slut då man ställer sig frågan om Catherine Tramell (Sharon Stone) ligger bakom ett mord eller ej. Hon är slug och använder sex för att linda alla runt sitt lillfinger, något som får männen att framstå som något dumma och lättpåverkade. Denna karaktär är alltså inte bara obehaglig utan även manipulativ nog att charma och förvirra tittarna vilket också gör att man binds fast i ett nät av mystik.
Sharon Stone blev grabbarnas onaniredskap tack vare denna scenen
.
Nu är Basic Instinct lite av en kultfilm som de flesta har sett eller vill se, och trots att det idag finns både obehagligare och betydligt sexigare filmer så är detta originalet som startade allt. I grund och botten spelar det inte så stor roll att den egentligen är aningen dum för i det långa loppet så fungerar filmen bra trots en liten känsla av B.
Är hon skyldig eller ej, det är den stora frågan
.
FILMINFORMATION:
Originaltitel: Basic Instinct.
Svensk titel: Iskallt Begär.
Taglines: "A brutal murder. A brilliant killer. A cop who can't resist the danger" och "Flesh seduces. Passion kills".
Genre: Drama, Mysterium, Thriller.
Skådespelare: Michael Douglas, Sharon Stone, George Dzundza, Jeanne Tripplehorn, Denis Arndt m.fl.
Regissör: Paul Verhoeven.
Speltid: 127 min (Blu-ray).
Språk: Engelska.
Undertext: Svenska.
Åldersgräns: Rekommenderad från 15 år.
Premiärår: 1992.
Sv. Biopremiär: 15 Maj 1992.
Distributör: Universal.
DVD och Blu-ray release: 16 Augusti 2006 (DVD), 1 Oktober 2008 (Blu-ray).
Köp filmen på DVD hos:
Cdon
eller
Discshop
.
Extramaterial (DVD): Exclusive interview of Paul Verhoeven • Investigating Basic Instinct - Blood Poison - Cleaning up Basic Instinct • Screen Tests • Promo Featurette... and more.
Köp filmen på Blu-ray hos:
Cdon
eller
Discshop
.
Extramaterial (Blu-ray): - .
FILMSERIEN BESTÅR AV:
Basic Instinct (1992).
Basic Instinct 2 (2006).