Dag 06 - Vilket är ditt favorit avsnitt ur din favorit TV-serie

?
Vilken var min favorit serie? The Big Bang Theory har jag för mig att jag valde just den dagen och där finns det många guldkorn, som de avsnitten när Leonards mamma är på besök. Men det finns ett avsnitt som jag verkligen älskar och där nördstatusen är på topp, och det är The Bakersfield Expedition.
Killarna klär då ut sig till karaktärer från tv-serien Star Trek: The Next Generation och beger sig iväg till Barkesfield där en Star Trek mässa hålls, men på vägen dit stannar de för att ta några Star Trek bilder och tyvärr så blir deras bil stulen. Så vad får vi då?
Jo, 4 nördar som är fast i "öknen" utklädda till Star Trek karaktärer och det kan inget annat än att bli fruktansvärt roligt. Nördstatusen är på topp och hela avsnittet är fyllt utav nördpassion.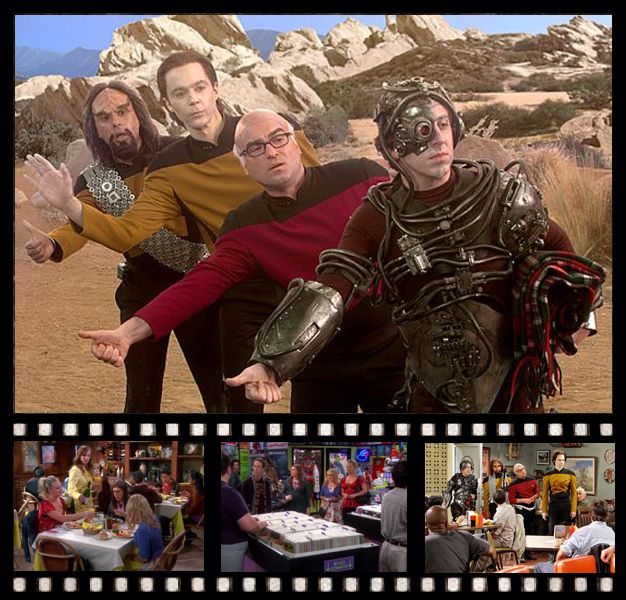 Dag 07 - Vilket avsnitt tycker du minst om ur din favorit TV-serie?
Dag 08 - En TV-serie som du tycker att alla borde se?
Dag 09 - Bästa scenen ur en TV-serie?
Dag 10 - En TV-serie som du inte trodde att du skulle tycka om men som du kom att älska?
Dag 11 - En TV-serie som gjorde dig besviken?
Dag 12 - Ett avsnitt som du har sett fler än 5 gånger?
Dag 13 - Favorit Tv-serie från barndomen?
Dag 14 - Manlig favorit karaktär?
Dag 15 - Kvinnlig favorit karaktär?
Dag 16 - Vilken är din "guilty pleasure" TV-serie?
Dag 17 - Favorit miniserie?
Dag 18 - Favorit intro?
Dag 19 - Bästa TV-serie "cast"?
Dag 20 - Bästa serie kyssen?
Dag 21 - Favorit par?
Dag 22 - Favorit seriefinal?
Dag 23 - Vilken karaktär retar gallfeber på dig?
Dag 24 - Bästa citat?
Dag 25 - En TV-serier som du planerar att se?
Dag 26 - OMG WTF? - Säsongsfinal.
Dag 27 - Bästa pilotavsnittet?
Dag 28 - Din första TV besatthet?
Dag 29 - Nuvarande TV besatthet?
Dag 30 - Den karaktär vars dö du anser vara sorgligast?