Film nr. 2093.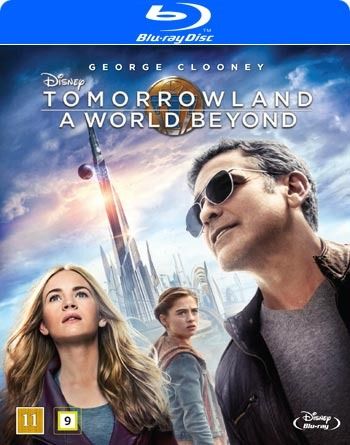 Tomorrowland (Familjefilm, Mysterium, Science Fiction, Äventyr):
Casey är en smarta och vetenskapsintresserade tonårstjejen vars liv binds samman med den äldre uppfinnaren Frank då det visar sig att de båda delar minnen från en plats som finns i en annan dimension. Tillsammans beger de sig nu ut på ett farligt uppdrag för att rädda världen.
BETYG och RECENSION:
Tomorrowland (sv.titel: Tomorrowland: A World Beyond) är en familjefilm med science fiction-inslag från 2015 som bygger på en av Disney Worlds åkattraktioner, och i huvudrollerna ser vi Britt Robertson och George Clooney som samspelar med bland annat Hugh Laurie och den unga Raffey Cassidy. Filmen tar sin början på 1960-talet och öppningen är svag, men ge man bara Tomorrowland tid så kommer den ifatt tiden och den utvecklas och växer då upp till något som är både intressant och medryckande, och inte minst tekniskt framgående.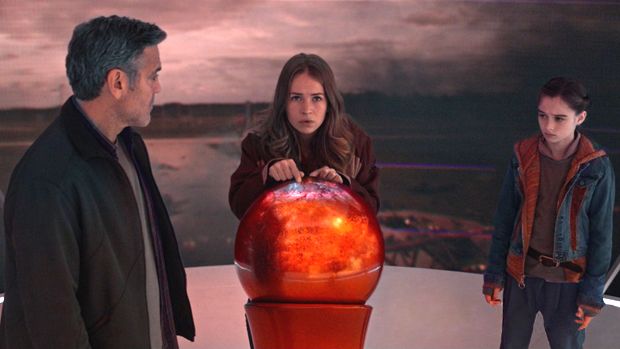 Casey (Britt Robertson) ser in i framtiden
. 
Tomorrowland må ha vissa brister i sin handling och sin uppbyggnad men filmen är åtminstone visuellt vacker och tillräckligt intressant för att fånga min uppmärksamhet. Dock är vissa av specialeffekterna något plastiga och även om handlingen egentligen är något för barnslig för en vuxen individ så är den underhållande och rent av lite smårolig på sina ställen. Under filmens gång befinner vi oss dessutom både i då- och nutid samtidigt som vi slungas in i något som kan likna en framtid. Detta eftersom vi kastas in i en annan dimension där tekniken har gått framåt och där robotarna har en stor roll i samhället som är uppbyggt på ett vackert och svävande vis, vilket i sin tur är just det som tilltalar mig. Att sedan själva handlingen som att går ut på att rädda världen och mänskligheten är något svag går att förbise medan man bara njuter av utsikten.
En visuellt vacker annan dimension
. 
Rent tekniskt sett så är Tomorrowland väldigt snyggt gjord (bortsett från de plastiga bitarna) och jag fastnar speciellt för uppfinningarna som dyker upp i bild lite stup i kvarten. Vissa av dessa saker ha vi självklart sett innan medan andra är helt nya samtidigt som de ändå är influerade av saker som vi redan har sett på ett eller annat vis. Men en sak är säker, de är åtminstone påhittiga och de gör också att filmen lever upp och håller lågan vid liv tillsammans med skapliga prestationer från skådespelarnas sida. Så trots en del brister som dyker upp både här och där så är och förblir Tomorrowland en underhållande film som passar hela familjen.
Plastiga robotar
.
FILMINFORMATION:
Originaltitel: Tomorrowland.
Svensk titel: Tomorrowland: A World Beyond.
Inspirerad av: Tomorrowland, som är en del av Disneyland's nöjespark.
Taglines: "Imagine a place where nothing is impossible", "Imagine a place where anything is possible", "Remember the future" och "Remember tomorrow".
Genre: Familjefilm, Mysterium, Science Fiction, Äventyr.
Skådespelare:George Clooney, Hugh Laurie, Britt Robertson, Raffey Cassidy, Tim McGraw, Kathryn Hahn, Keegan-Michael Key, Chris Bauer, Thomas Robinson, Pierce Gagnon, Matthew MacCaull, Judy Greer m.fl.
Regissör: Brad Bird .
Filmmanus: Damon Lindelof och Brad Bird.
Speltid: 130 min (Blu-ray).
Språk: Engelska.
Undertext: Svenska.
Land: USA, Spanien.
Åldersgräns: Rekommenderad från 11 år.
Premiärår / Utgivningsår: 2015.
Sv. Biopremiär: 22 Maj 2015.
Distributör: Disney.
DVD och Blu-rayrelease: 5 Oktober 2015.
Köp filmen på DVD hos:
Discshop
, Cdon och Ginza.
Extramaterial (DVD): - .
Köp filmen på Blu-ray hos:
Discshop
, Cdon och Ginza.
Extramaterial (Blu-ray): Remembering The Future: A Personal Journey Through Tomorrowland With Brad Bird • Casting Tomorrowland: A World Beyond • A Great Big Beautiful Scoring Session • Animated Short: The Origins Of Plus Ultra • Brad Bird Production Diaries • Blast From The Past Commercial • Deleted Scenes.
Swiss Army Man släpptes på DVD och Blu-ray av Njutafilms den 5 december 2016 och där får vi ta del av en annorlunda vänskap mellan två unga män. Den ena är nämligen strandsatt på en öde och där den andra är ett lik som spolats upp på land.
Filmrecension:
Swiss Army Man
.