Southpaw (Action, Drama, Sport):
Billy "The Great" Hope är en stjärna i boxningsringen som inte riktigt vet när han ska sluta. Men när han drabbas av en fruktansvärd tragedi tar allt stopp och istället för att ta ut ilskan i ringen vänder han sig till alkoholen för att bedöva sorgen. När allt ser som mörkast ut tar den före detta boxaren Tick honom under sina vingar och tillsammans börjar de jobba på att få Billy tillbaka till ringen och livet. 
BETYG och RECENSION: 
Southpaw är ett drama från 2015 som kretsar kring en av de sporter som jag verkligen hatar, nämligen boxning. Alla sporter som involverar slag mot huvudet är i mina ögon idiotiska, precis som de som utför kampen, och just därför gick jag in i filmen med förutfattade meningar. Tack o lov så visade det sig att Southpaw hade något mer än bara hårda slag innanför ringen men även om filmen målar upp ett tragiskt och känsloladdat liv så kunde jag inte riktigt ta det till mig. 
Billy har fått en del hårda slag mot huvudet och det märks
.
I Southpaw möter vi boxaren Billy Hope (Jake Gyllenhaal) som har haft en tuff och fattig uppväxt precis som hans fru Maureen (Rachel McAdams), men Billys framgång inom boxningen har gett dom ett rikt och kärleksfullt liv. Men inget varar för evigt och efter en tragisk tragedi faller hela Billys liv samman. Han ta då till droger och alkohol för att klara av dagen vilket leder till ännu mer problem och hans rika dagar i rampljuset är nu över, men... den före detta boxaren Tick Wills (Forest Whitaker) dyker då upp i hans liv och tillsammans börjar deras kamp som går ut på att rädda Billy från hans personliga helvete. Just denna biten av filmen är faktiskt berörande men av någon anledning faller allt samman någonstans på vägen och i slutändan så bryr jag mig faktiskt inte om vad som händer med karaktärerna, och det är alltså en enorm brist i filmen eller så är det bara så att jag är kall och känslolös.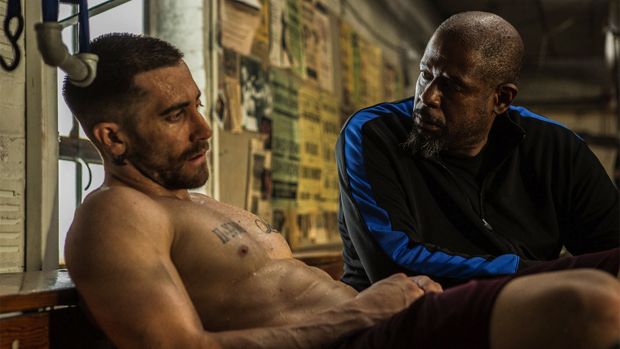 När livet faller samman för Billy dyker Tick upp som en räddande ängel
. 
Trost bristande känslor så imponeras jag ändå något av Jake Gyllenhaal's insats i filmen men jag kan ändå inte ta hans karaktär Billy Hope till mig. Detta kan vara för att jag inte är vidare förtjust i Gyllenhaal som skådespelare och jag upplever oftas hans rolltolkningar som något efterblivna, vilket i och för sig är passande just i Southpaw då Billy har mottagit x antal slag mot huvudet. Rachel McAdams däremot, henne har jag alltid tyckt om och därför blir jag också något förvånad när jag inte tycker om hennes karaktär Maureen. Hon har nämligen ett något slampigt utseende i filmen vilket inte passa henne, och sen kan jag inte förstå hur Maureen orka med att leva med någon som hellre går upp i ringen och får ett dödligt slag än att lägga ner sin tid på familjen. Som sagt, personer som är involverade i våldsamma sporter är inte riktigt som de ska vara och de kan jag inte heller känna något för.
Billy och Maureen lever rikt, men kanske inte alltid så lyckligt
.
Vid sidan om våra huvudkarakräer se vi även Forest Whitaker i rollen som Tick, en skådespelar som jag alltid har tyckt om då han i regel alltid tar sig ann karaktärer som är något bakom flötet. Men här i Southpaw är han så redig som han bara kan blir och det förbryllar mig, men han är ändå den som jag åtminstone kan känna något för. Sen borde man som människa kanske känna något för Billy och Maureens dotter Leila (Oona Laurence) då hon är den som få ta den största smällen i dramat, men det är bara något med hennes som gör att jag inte kan det. Så med andra ord kan jag inte känna något för någon och det är nog också det som gör att Southpaw inte riktigt går hem hos mig. Visst har filmen sina stunder och den är i alla fall betydligt bättre än boxningsfilmen Fighter som kom ut för några år sedan, men Southpaw är ändå ingen film som jag vill se igen.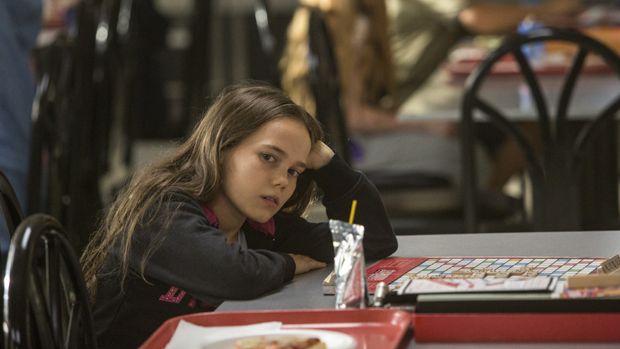 Dottern Leila må vara älskad men det krävs dock mer än så för att göra ett barn lycklig
.
FILMINFORMATION:
Originaltitel: Southpaw.
Svensk titel: Southpaw.
Tagline: "Believe In Hope".
Genre: Action, Drama, Sport. Thriller.
Skådespelare: Jake Gyllenhaal, Rachel McAdams, Forest Whitaker, Oona Laurence, Curtis '50 Cent' Jackson, Skylan Brooks, Naomie Harris, Victor Ortiz, Beau Knapp, Miguel Gomez m.fl.
Regissör: Antoine Fuqua.
Filmmanus: Kurt Sutter.
Speltid: 124 min (Blu-ray).
Språk: Engelska.
Undertext: Svenska.
Land: USA.
Åldersgräns: Rekommenderad från 15 år.
Premiärår / Utgivningsår: 2015.
Sv. Biopremiär: 7 Augusti 2015.
Distributör: Scanbox.
DVD och Blu-rayrelease: 7 December 2015.
Extramaterial (DVD): Deleted Scenes • Southpaw: Inside The Ring • Extended Training Montage.
Extramaterial (Blu-ray): Deleted Scenes • Southpaw: Inside The Ring • Q&A With Cast • Extended Training Montage.