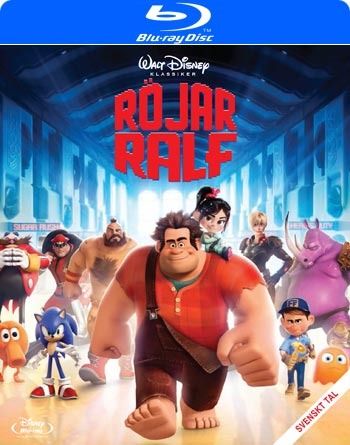 Wreck-It Ralph (Animerad Familjefilm, Komedi, Äventyr):
Wreck-It Ralph är en videospelsskurk som skulle vilja att folk kunde se honom för den han faktiskt är, en snäll och figur som lika väl hade kunnat vara en hjälte, precis som den omtyckte Fix it Felix. Så i hopp om att bevisa sin godhet lämnar han sitt spel och beger sig ut på en medaljongjakt, men hans strävan efter godhet ger förödelse till hela spelhall där han bor.
FILMEN FÅR:
Wreck-It Ralph (sv. titel: Röjar-Ralf) är ännu en härlig lite familjefilm ifrån Disney men som konstigt nog inte har Pixar inblandade. Jag som är en nörd, men visserligen inte en spelnörd, anser att denna filmen är en av de lite bättre nyare och animerade Disneyfilmerna och även om det var längesedan vi fick se den där klassiska Disneysagan där prinsessan möter sin prins så saknar jag det inte. Jag gillar Disneys något modernare framtoning och kanske kan det vara så att jag bara fastnar för de Alien och Starship Troopers inspirerade bitarna just i Wreck-It Ralph (som säkert egentligen är tagna från nått spel), eller är det bara hela känslan och upplägget som tilltalar mig.
Barnen skulle bara veta var detta kommer ifrån... egentligen
.
Nu är det visserligen så att Wreck-It Ralph inte väcker de där starka känslorna inom en som Disneyfilmerna gjorde förr i tiden, när de var tecknade. Ni vet sorgen som tog över och som fick oss att böla som småbarn, utan här i Wreck-It Ralph så är handlingen nu något roligare men ändå charmig och söt när den dessutom innehåller ett budskap om att inte ge upp. Allt är dessutom färgglatt och sprudlande sockersött då Ralph (eng. röst av John C. Reilly) försöker bevis att han faktiskt är en snäll kille och inte bara en bov i sitt tv-spel.
Wreck-It Ralph vill vara något mer än bara en skurk
. 
Just animationen känns välgjord och som den lite äldre tittare jag är känner jag även till några av spelen som här visas upp, något som lär vara främmande för de mindre tittarna. De engelska skådespelarna som lånar ut sina röster känns passande till de karaktärer de gör och just Sarah Silvermans barnsliga röst kommer väl till pass när hon här lånar ut den till det nioåriga barnet Vanellope.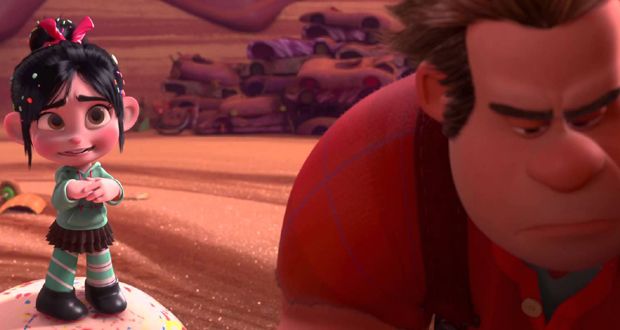 Vanellope och Ralph blir goda vänner när de båda vill bevisa vad de går för
.
Wreck-It Ralph må kanske inte ha Pixar inblandade men Disney lyckas bra helt på egna hand när det kommer till att göra en datoranimerad film med ett budskap. Den är kanske inte lika söt som Disney • Pixar filmerna men den är tillräckligt söt och charmig för att kunna stå på egna bara ben i det animerad familjefilms-havet.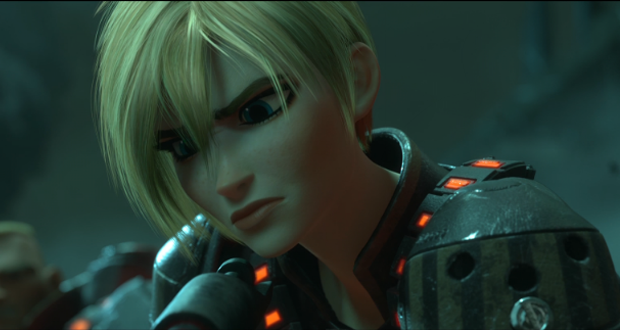 Coola (eng. röst av Jane Lynch) får räta till Ralphs misstag
.
FILMINFORMATION:
Originaltitel: Wreck-It Ralph.
Svensk titel: Röjar-Ralf.
Tagline: "When the game is over, a new world comes to life" och "The story of a regular guy just looking for a little wreck-ognition".
Genre: Animerad Familjefilm, Komedi, Äventyr.
Skådespelsröster (Engelska): John C. Reilly, Sarah Silverman, Jack McBrayer, Jane Lynch, Alan Tudyk, Mindy Kaling, Joe Lo Truglio, Ed O'Neill, Edie McClurg m.fl.
Skådespelsröster (Svenska): Magnus Roosmann, Carla Abrahamsen, Göran Gillinger, Anki Albertsson, Claes Månsson, Mikaela Tidermark, Bengt Järnblad, Max Lorentz, Kalle Westerdahl, Annica Smedius, Magnus Mark, Andreas Nilsson, Ole Ornered, Niklas Falk, Johan Hedenberg, Steve Kratz, Fredrik Hiller m.fl.
Regissör: Rich Moore.
Filmmanus: Phil Johnston och Jennifer Lee.
Speltid: 101 min (Blu-ray).
Originalspråk: Engelska.
Undertext: Svenska.
Produktionsland: USA.
Åldersgräns: Rekommenderad från 7 år.
Utgivningsår: 2012.
Sv. Biopremiär: 8 Februari 2013.
Distributör: Disney.
DVD och Blu-rayrelease: 5 Juni 2013.
Extramaterial (DVD): Kortfilm: Paperman (ej textad).
Extramaterial (Blu-ray): Kortfilm: Paperman (ej textad), Bit för bit: Så gjordes världarna i Röjar-Ralf, Alternativa & Borttagna scener.
Extramaterial (Blu-ray 3D): Kortfilm: Paperman (ej textad, i 2D och 3D), Bit för bit: Så gjordes världarna i Röjar-Ralf, Alternativa & Borttagna scener.
Hyr filmen hos:
SF Anytime
.