Where to Invade Next (Dokumentär): 
Michael Moore ger sig ut på en resa där han invaderar andra länder för att se vad de har att lära och erbjuda USA.  
BETYG och RECENSION:  
Where to Invade Next är en dokumentär från 2015 som är skapad av Michael Moore och där han reser världen runt för att undersöka de fördelar som världens olika länderna har jämfört med USA. Jag som inte är mycket för dokumentärer blir positivt överraskade och finner hans undersökning både lärorik och intressant. 
Michael Moore blir chockad då italienarna tycker att 8 veckors betald semester per år är normalt, USA saknar lagen som säger att man har rätt till betald semester
. 
Where to Invade Next inleds med att Michael Moore påstår att USA:s högst uppsatta män har bett om hans hjälp och redan där börjar jag ifrågasätta dokumentärens trovärdighet, och för att sedan krydda mitt misstroende lite extra så verkar vissa länder ha det lite för bra för att vara sant. Nu är det visserligen så att Michael Moore bara lyfter fram de bra egenskaperna hos de länderna som han besöker och utelämnar de dåliga, men när det kommer till USA så påpekar han bara landets alla nackdelar och det finns massor. Men vad har alla dessa andra länder gemensamt? Jo, människorna lever under bättre omständigheter än de i USA och efter att ha sett dokumentären så börjar jag ifrågasätta om Amerika har några bra fördelar, lagar och regler överhuvudtaget, och så undrar jag varför Sverige bara "nämns" en eller två gång? Förutom vår nästan fira sjukvård och skolutbildning så är vi kanske inte mycket bättre vi själva.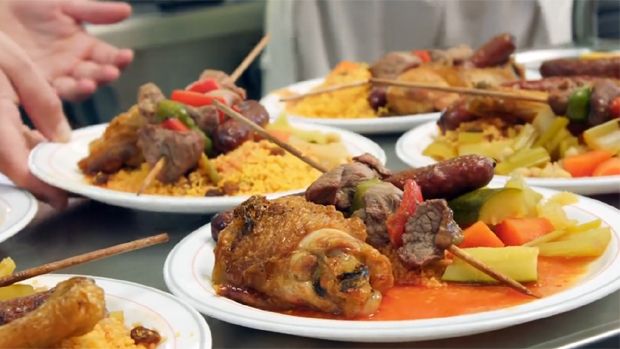 Gourmetmat serveras i de franska skolorna
. 
Hur som helst så är Where to Invade Next en sevärd dokumentär som har glimten i ögat och även om den kan blir lite väl långtråkigt på sina ställen så vill jag ändå rekommendera den. Vi få lära oss mycket gott om de olika länderna medan USA smutskastas men vi få inte glömma att alla länder har sina egna små monster gömda under sängarna, de visar sig bara inte här.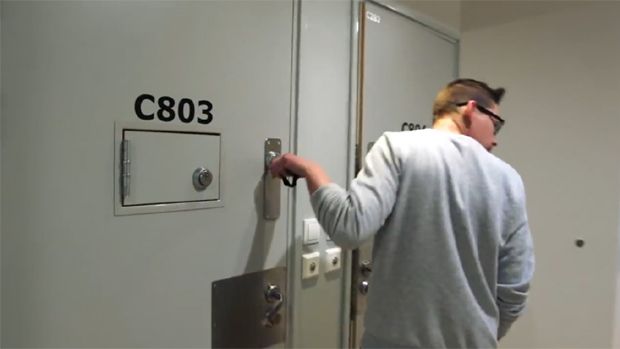 I Norge bor fångarna i ett fängelse som kan jämföras med ett hotell, de har till och med egna nycklar till sina celler
. 
©Scanbox Entertainment
FILMINFORMATION:
Originaltitel: Where to Invade Next.
Svensk titel: Where to Invade Next.
Taglines: "Michael Moore's most dangerous comedy" och "Prepare to be liberated".
Genre: Dokumentär.
Medverkande: Michael Moore m.fl.
Regissör: Michael Moore.
Speltid: 120 min (Blu-ray).
Språk: Engelska, Italienska, Franska, Tyskan, Finska, Norska, Portugisiska, Arabiska.
Undertext: Svenska.
Land: USA.
Åldersgräns: Rekommenderad från 15 år i Sverige.
Premiärår / Utgivningsår: 2015.
Sv. Biopremiär: 15 April 2016.
Distributör: Scanbox Entertainment.
DVD och Blu-rayrelease: 15 Augusti 2016.
Extramaterial (DVD): - .
Extramaterial (Blu-ray): - .