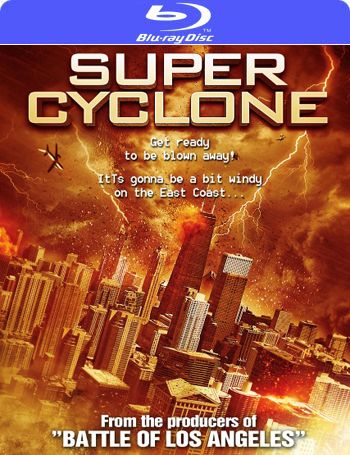 Super Cyclone (Katastroffilm/Action/Sci-fi):
Efter att man har råkat borra lite för långt ner i havsbottnen så skapas en gigantisk cyklon som nu hotar hela Amerikas östra kust. Det blir nu upp till Dr. Jenna Sparks och hennes kolega att rädda människorna och stoppa den varierade väderleken som kan bli vår död. 
Ingen har väll missat att jag har en svaghet för B-katastroffilmer där specialeffekterna är under all kritik och Super Cyclone är just en sådan sketen liten film som jag bara var tvungen att se. Det har dessutom blivit många B-filmer för mig den senaste tiden (jag har kanske inte hunnit skriva om dom alla) och tyvärr så har jag inte ramlat över många som har varit bra. Just Super Cyclone fick jag ge hela fem chanser innan jag lyckades ta mig igenom filmen. Dessförinnan skenade jag iväg på alla håll och kanter och filmen gled lite lätt förbi mig fyra gånger innan jag lyckades klistra ögonen på tv-rutan och sitta kvar i "godan ro". Men eftersom filmen är så fruktansvärt dålig blev det också en hel del skratt åt de dåliga replikerna, det kassa skådespelet och de vedervärdiga specialeffekterna. Super Cyclone är med andra ord så dåligt att man inte vet om man ska skratta eller gråta, men jag valde iallafall att småflina mig igenom hela skiten.
Super Cyclone är typ som en blandning av B-filmerna
Miami Magma
och
Metal Tornado
då det finns mer än en likhet även om de alla är någorlunda olika. De största likheterna är så klart att de alla är billiga B-filmer som egentligen inte borde ha gjorts, men så har vi också den flytande magman och stormen som binder ihop dom alla. Produktionsbolaget The Global Asylum som har gjort Super Cyclone ligger även bakom filmerna
2012: Ice Age
och
2012: Doomsday
och därför tyckte de nog att de kunde låna vissa klipp ifrån sina tidigare filmer, som t.ex som när vi få se stormen ta sin plats mitt på en gata. Är man fattig så är man och varför skapa nytt när man kan återanvända det gamla, det tycks iallafall vara The Global Asylum motto.
Men även om Super Cyclone är så genomrutten som den bara kan bli så finns är ändå en viss charm och det just den charmen som få mig att skratta åt allt elände som vi här få se. Dock så råkar just denna B-filmen vara en av de riktigt dåliga och även om jag älskar att hata den så blir jag mest bara besviken och hatisk. Super Cyclone är helt klart en av de få B-katastroffilmer som jag hade kunnat leva utan och just nu så önskar jag nästan att jag inte ens hade sett den. Men gjort är gjort och filmen blir tyvärr inte bättre av att jag älskar att hata den.