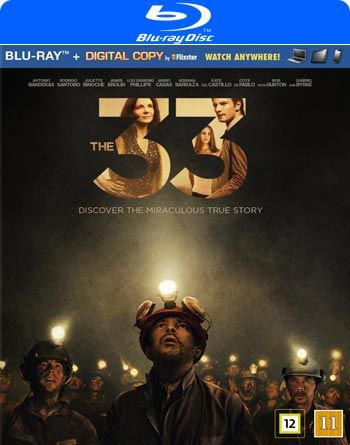 The 33 (Biografi, Drama, Historia):  
Filmen är baserad på en verklig händelse. 
2010 inträffade ett gruvras i Chile som begravde 33 gruvarbetare levandes. Tiden var knapp och under 69 dygn gjorde ett räddningsteam allt de kunde för att rädda dom samtidigt som gruvarbetarnas familjer och hela världen väntade på ett livstecken från de instängda männen.  
BETYG och RECENSION:  
The 33 är en film från 2015 som är baserad på den sanna historian om de 33 gruvarbetarna som under år 2010 blev levandes begravda i 69 dagar då ett gruvras inträffade i Chile, och filmen är i sin tur en remake på den spanska filmen Los 33 de San José som kom ut samma år som olyckan inträffade. I rollistan hittar vi bland annat Antonio Banderas, vars karaktärer Mario Sepúlveda tappert försöker överleva i grottan samtidigt som ett räddningsteam ovanför marken gör allt de kan för att få ut dom levande. 
Med tanke på den historian som The 33 har så är det förståeligt att händelserna är få och att scenombytena är enkla, men detta gör för en gångs skull inte att en film som denna blir svag utan det starka dramat finns ändå där i krokarna för att förgylla min tillvaro. Nu är det dock ändå så att filmen hade mått bra av att vara något kortare. Vissa av moment känns nämligen som onödig utfyllnad och de fyller inte heller någon direkt funktion, utan de får snarare bara mitt intresse att blekna vid några enstaka tillfällen då allt spårar ur.  
För att vara en biografisk historia så är kanske inte The 33 lika stark som så många andra filmer där ute men den har ändå det där lilla extra som fångar upp mitt intresse. Även om jag är insatt i historian och vet hur det hela kommer sluta så upplever jag ändå en spänning under dramats gång och jag blir rent av berörd av deras öde. Dock kan jag störa mig på att de spanska karaktärerna pratar engelska fast med en spansk brytning men detta gör trots allt filmen lättare att förstå och man behöver därför inte helt förlita sig på karaktärernas kroppsspråk. Nu har de alla visserligen ett tydligt kroppsspråk, kanske rent av ett för tydligt ibland, men på det stora hela så känner jag mig nöjd med deras beslut att tala på engelska och i slutändan är The 33 en film som jag kan rekommendera. 
Familjemedlemmarna vakar varsamt vid gruvan dygnet runt
.
FILMINFORMATION:
Originaltitel: The 33.
Svensk titel: The 33.
Baserad på: Boken "Deep Down Dark" av Héctor Tobar, och på en verklig händelse.
En nyinspelning av filmen: "Los 33 de San José" från 2010.
Taglines: "Hope Runs Deep" och "Discover the miraculous true story".
Genre: Biografi, Drama, Historia.
Skådespelare: Antonio Banderas, Rodrigo Santoro, Juliette Binoche, James Brolin, Lou Diamond Phillips, Juan Pablo Raba, Cote de Pablo m.fl.
Regissör: Patricia Riggen.
Speltid: 127 min (Blu-ray).
Språk: Engelska, Spanska.
Undertext: Svenska.
Åldersgräns: Rekommenderad från 11 år.
Premiärår: 2015.
Sv. Biopremiär: - .
Distributör: Warner Bros.
DVD och Blu-ray release: 12 Maj 2016.
Extramaterial (Blu-ray): THE MINE COLLAPSE: A behind-the-scenes look at creating the mine collapse with the cast, crew and stunt department • HE 33: THE WORLD WAS WATCHING: See why this true story captivated viewers with news footage from around the world, as well as interviews, B-roll and film footage.