Honey 3: Dare to Dance (Dans, Drama, Romantik):
När hip-hop koreografen Melea inte längre kan betala sin skolavgift måste hon lämna skolan och hon bestämmer sig då för att göra en hiphop-uppsättning av den klassiska sagan Romeo and Juliet.   
BETYG och RECENSION:
Honey 3: Dare to Dance är ett dansdrama från 2016 som har sångerskan Cassie Ventura i huvudrollen som Melea Martin och egentligen hade jag bara velat säga nej, men det hade inte blivit mycket till recension så därför fördjupar jag mig något.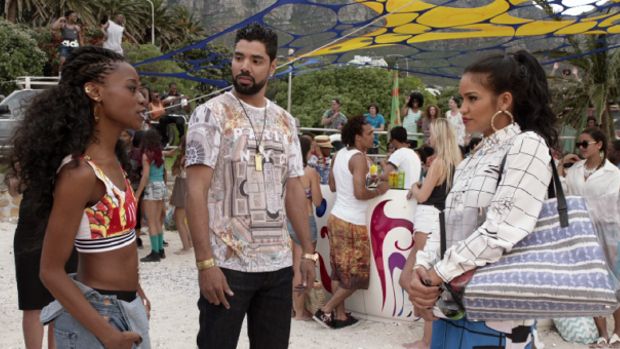 Konkurrens uppstår vid första mötet mellan Ishani Mfeke (Sibongile Mlambo) och Melea
.
Honey 3: Dare to Dance är den tredje filmen ut i Honey-storyn, en filmserien som nästan helt saknar en röd tråd. Förutom en liten gemensamhet om dans och att vilja hjälpa människor så saknar denna, precis som Honey 2, den stora grunden för att kunna kalla sig för en uppföljare. De både uppföljarna hade mycket väl kunnat vara två helt fristående filmer under vilket namn som helst men istället har de valt att dra ner originalfilmen i smutsen med hjälp av sina stora brister. Filmen saknar helt nytänk då vi mer eller mindre har sett allt förut och även om många av dessa dansfilmer är lika varandra så brukar de ha något som får dom att sticka ut från mängden, en charm som för dom framåt men det saknar tyvärr Honey 3: Dare to Dance.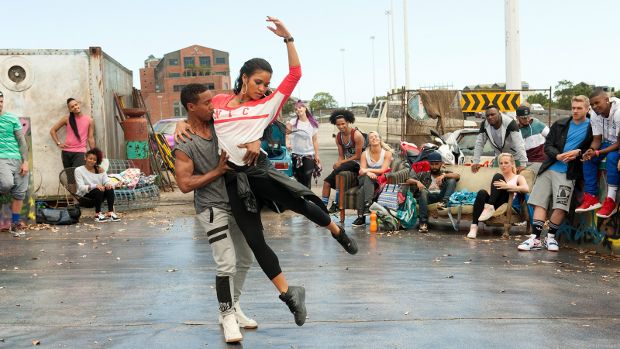 En hip-hop uppsättning av Romeo and Juliet håller på att skapas
. 
Skådespelarna må vara duktiga på att dansa men när det kommer till inlevelse och att leverera sina repliker så brister de stort. Manuset är ihåligt, i hopplockat och saknar grund samtidigt som dialogerna är dåligt formulerade, skådespelarna har alltså inte mycket att jobba med. Dansen som annars brukar tilltala mig känns platt och det finns ingen charm eller underhållning någonstans i historian vilket får hela filmen att falla som ett höstlöv mot marken. Honey 3: Dare to Dance är alltså en film som vi hade klarat oss utan och jag rekommenderar att ni undviker den.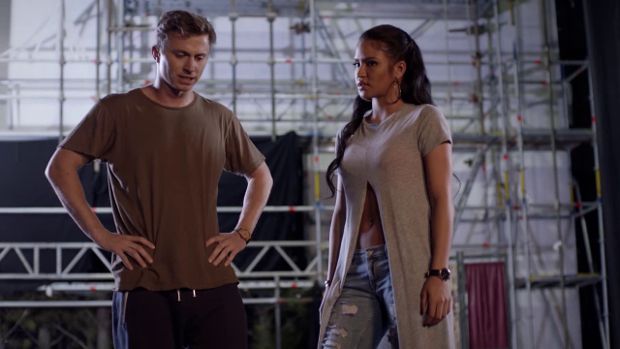 Trubbel i paradiset
. 
FILMINFORMATION:
Originaltitel: Honey 3: Dare to Dance.
Svensk titel: Honey 3: Dare to Dance.
Tagline: - .
Genre: Dans, Drama, Romantik.
Skådespelare: Cassie Ventura, Kenny Wormald, Dena Kaplan, Sibongile Mlambo (som Sibo Mlambo), Clayton Evertson m.fl.
Regissör: Bille Woodruff.
Filmmanus: Catherine Cyran.
Speltid: 92 min (DVD).
Språk: Engelska.
Undertext: Svenska.
Land: USA.
Åldersgräns: Rekommenderad från 11 år.
Premiärår / Utgivningsår: 2016.
Sv. Biopremiär: - .
Distributör: Universal.
DVD-release: 12 September 2016.
Extramaterial (DVD): Commentary with Director Bille Woodruff • Extended Dance Sequences • Behind the Dance: The Making of Honey 3 • Deleted Scenes and More.
Filmserien består av: Honey (2003).
                                   Honey 2 (2011).
                                   Honey 3: Dare to Dance (2016).