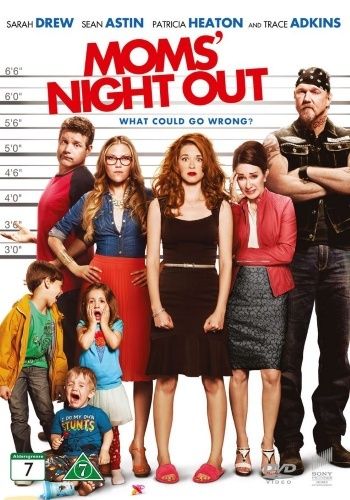 Moms' Night Out (Komedi):
Allyson och hennes väninnor behöver en utekväll för sig själva och därför ska deras män passa barnen i några timmar, men saker och ting går inte riktigt som planerat. 
BETYG och RECENSION:
Moms' Night Out är, eller snarare ska föreställa en komedi från 2014 där några mammor lämnar sina ungarna i pappornas händer medan de ska göra stan osäker. Med tanke på filmtiteln så hade jag föreställt mig en natt på krogen där spriten skulle flöda, men riktigt så blir det inte utan Moms' Night Out bjuder istället på ett humorlöst jagande där man letar efter just barnen. Det finns alltså inget festande och ingen fylla med i filmen utan bara ett tråkigt sökande där barnen mer eller mindre står i fokus utan att egentligen synas till, och till min stora besvikelse är det dessutom ett himla massa predikande med i manuset där Guds namn dyker upp i tid och otid. Så ja, Moms' Night Out är en mardröm för en sån som mig.
Filmen visar tyvärr upp hur tråkiga många av världens mammor är och detta eftersom de aldrig kan lämna barnen utanför diskussionsämnena eller aktiviteterna, och just i detta fallet lyckas de inte ens skapa en barnfri kväll trots att de har barnvakter. Moms' Night Out vill dessutom framföra att en mammas jobb är det viktigaste jobbet som finns och ändå så är just dessa mammorna helt värdelös på sitt jobb och papporna, ja de tycks inte ens förstå att de också har ett ansvar. Föräldrarna låter sina barn göra vad de vill utan att ta konsekvenserna och jag undrar var barnuppfostran har tagit vägen. Sämre uppfostran få man alltså leta efter och därför vill jag även passa på att säga att Moms' Night Out är den perfekta handboken för hur man inte ska göra.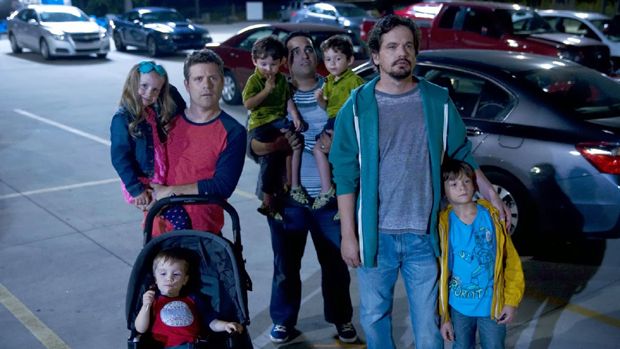 Barnen är i pappornas händer, men de vet inte hur man tar hand om dom
.   
På filmomslaget finns taglinen "What could go wrong?" och om vi syftar på Moms' Night Out så är svaret allt. Filmen är en total katastrof som är fylld av hysteriska människor där humorn uteblir och där det ena beslutet är sämre än det andra. Allt blir till en rörig och smaklös soppa som egentligen bara hör hemma på ett ställe, nämligen i soptunnan tillsammans med de andra nerbajsade blöjorna.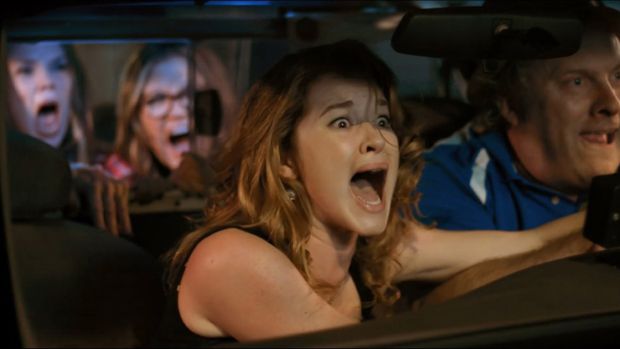 Hysteriska kvinnor är på jakt
. 
FILMINFORMATION:
Originaltitel: Moms' Night Out.
Svensk titel: Moms' Night Out.
Tagline: "What could go wrong?".
Genre: Komedi.
Skådespelare: Sarah Drew, Sean Astin, Patricia Heaton, Trace Adkins, David Hunt, Andrea Logan White, Harry Shum Jr., Abbie Cobb, Robert Amaya, Kevin Downes, Alex Kendrick, Sammi Hanratty m.fl.
Regissörer: Andrew Erwin och Jon Erwin (The Erwin Brothers).
Filmmanus: Jonathan Erwin och Andrea Nasfell.
Speltid: 95 min (DVD).
Språk: Engelska.
Undertext: Svenska.
Land: USA.
Åldersgräns: Rekommenderad från 7 år.
Premiärår: 2014.
Sv. Biopremiär: 15 August 2014.
Distributör: Sony.
DVD-release: 29 December 2014.
Extramaterial (DVD): Commentary with Directors Andrew Erwin and Jon Erwin and Producer Kevin Downes • Bloopers • Deleted Scenes • The Heart Of Mom's Night Out • Casting Mom's Night Out • The Art Of Improv • The Art Of Action.