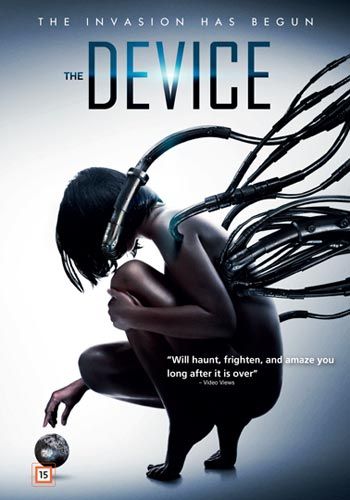 The Device (Science Fiction, Skräck, Thriller): 
Systrarna Abby och Rebecca hittar ett utomjordiskt föremål i skogen som snart visar sig ha oanade effekter på människorna i sin omgivning.  
BETYG och RECENSION: 
The Device är en B-film från 2014 som med sitt utomjordiska inslag inte kunde gå mer fel. Filmen har dessutom ett läckert omslag som är aningen missvisande och manuset är dummare än tåget då dialogerna knappt är funktionella, och vid sidan om det så är skådespelarna värdelösa och specialeffekterna billiga. The Device är med andra ord en B-film som jag älskar att hata.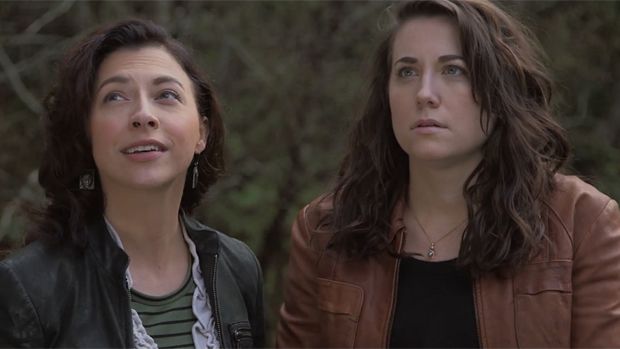 Systrarna Abby och Rebecca har ett förflutet som påverkar deras relation
. 
I The Device kastas vi till en början ut i skogen till en stuga där två systrar med ett eländigt förflutet ramlar över ett utomjordiskt föremål, ett runt klot som vänder upp och ner på deras tillvaro då de tar med det hem till stan. Filmen är enkelspårig och dummare än ett rakt streck då den bryter/glömmer bort de enklaste reglerna, så som att en läkare har tystnadsplikt, och i rollistan syns till största del bara tre skådespelare vilket bara gör saken ännu värre och ännu mer enformig. Angela DiMarco och Kate Alden syns i rollerna som systrarna Abby och Rebecca, och David S. Hogan syns i rollen som Abbys man Calvin. Detta är tre skådespelare som helt saknar talang och personkemi vilket får deras släkt- och kärleksrelation att framstå som ett stort skämt.
Ett runt och utomjordiskt föremål orsakar problem
.
Vi har på ett eller annat vis redan sett storyn i The Device så många gånger innan vilket gör att filmen varken känns ny eller originell, och jag som annars brukar uppskatta en kass B-filmen känner mig nu bara lurad. Här finns inget nytt att hämta och de kassa B-händelserna som skulle ha kunnat hålla filmen vid liv uteblir helt. Så nej, du får en större skräckupplevelse om du tuggar på en flugsvamp än om du ser The Device. 
En utomjording som ser ut som de vi har sett förut
.  
FILMINFORMATION:
Originaltitel: The Device.
Svensk titel: The Device.
Tagline: "The invasion has begun".
Genre: Science Fiction, Skräck, Thriller.
Skådespelare: Angela DiMarco, David S. Hogan, Kate Alden m.fl.
Regissör: Jeremy Berg.
Filmmanus: Jeremy Berg och John Portanova.
Speltid: 87 min (DVD).
Språk: Engelska.
Undertext: Svenska.
Land: USA.
Åldersgräns: Rekommenderad från 15 år.
Premiärår / Utgivningsår: 2014.
Sv. Biopremiär: - .
Distributör: Tack One.
DVD och Blu-rayrelease: 26 Oktober 2015.
Extramaterial (DVD): - .