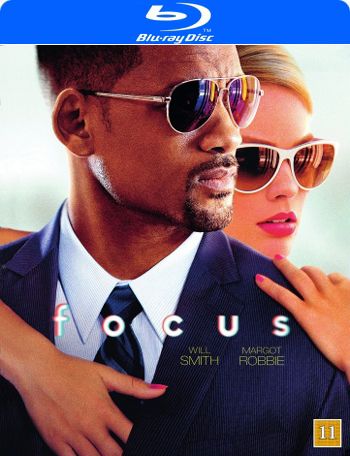 Focus (Drama, Komedi, Kriminalare, Romantik): 
Lurendrejaren Nicky tar nybörjaren Jess under sina vingar och lär henne alla de knep han kan, men detta leder snart till att deras relation blir lite för närgången. Så småningom börjar Nicky tappa focus och hans välplanerad kupp riskerar då också att fallera. 
BETYG och RECENSION: 
Focus, ett kriminaldrama som jag hade så höga förhoppningar om men som lämnade mig något tom och besviken utan att bli dålig. Vi kastas in i en värld full av bedragare som lurar skjortan av allt och alla utan att någon märker det och mellan stötarna pågår ett romantiks spel som gör filmen något söt. Men allt som vi praktiskt taget få se är ett spel, ett lurendrejeri som förr eller senare kommer krascha, eller kommer det göra det? I vilket fall som helst så blir man tillfälligt förvirrad mer än en gång under resan mot slutet av filmen.
Bedragarna in action
. 
Focus lurar inte bara karaktärerna utan även oss tittare och till slut blir det riktigt svårt att avgöra vad som är sant eller vad som är ett spel. Filmen kör på lite av ett mind fuck och även om vi kan se igenom vissa välplanerade händelser så kan man aldrig riktigt vara säker på vad som är ett spel och vad som faktiskt är delar av det riktiga livet. Filmen bjuder på mer än en twist och det är nog det som för den framåt och håller den vid liv, men det romantiska dramat mellan Jess (Margot Robbie) och Nicky (Will Smith) som gömmer sig mellan stötarna är inte tillräckligt lockande för att jag ska sugas in i romantiken. Jess må vara både söt som socker och vacker som en ros men hennes personlighet tilltalar inte mig och jag har på tok för svårt för att få grepp om Nicky för att sugas in i hans charm. De båda skådespelarna må utsöndra en kemi men dramat mellan dom hamnar ändå lite på sned någonstans på vägen.
Nicky och Jess flörta hej vilt
. 
Ja, Focus är en något rörig men ändå intressant film och även om jag tappar bort mig själv någonstans på vägen så vill jag komma fram till slutet där en klarhet och ännu en twist väntar. Men vägen dit är inte så spännande och underhållande som jag hade hoppats på och även om jag inte tycker att filmen är dålig så är jag alltså lite besviken. Margot Robbie må dessutom vara Focus stora dragningskraft men filmen lovar ändå mer än vad den leverera och det gör också den något svag men ändå sevärd.
Margot Robbie är söt, vacker och sexig i rollen som Jess. Ja, allt på en och samma gång
. 
FILMINFORMATION:
Originaltitel: Focus.
Svensk titel: Focus.
Tagline: "Never lose Focus" och "Never Drop The Con".
Genre: Drama, Komedi, Kriminalare, Romantik.
Skådespelare: Will Smith, Margot Robbie, Adrian Martinez, Gerald McRaney, Rodrigo Santoro, BD Wong, Brennan Brown, Robert Taylor m.fl.
Regissörer: Glenn Ficarra och John Requa.
Filmmanus: Glenn Ficarra och John Requa.
Speltid: 105 min (Blu-ray).
Språk: Engelska, Spanska.
Undertext: Svenska.
Land: USA, Argentina.
Åldersgräns: Rekommenderad från 11 år.
Premiärår / Utgivningsår: 2015.
Sv. Biopremiär: 6 Mars 2015.
Distributör: Warner Bros.
DVD och Blu-rayrelease: 13 Juli 2015.
Extramaterial (DVD): Deleted Scenes.
Extramaterial (Blu-ray): Masters of Misdirection: The Players in a Con • Will Smith: Gentleman Thief • Margot Robbie: Stealing Hearts • Deleted Scenes • Alternate Opening.