The Divide (Drama, Scinece Fiction, Thriller):
Några överlevare från en kärnvapenattack tar skydd nere i källaren av deras hyreshus. De är nu isolerad och bristen på mat och vatten tär på deras psyke samtidigt som de sakta börjar tappa förståndet.
BETYG och RECENSION:
The Divide är något av en B-film från 2011 som för mig innehåller välkända namn som bland annat Lauren German, Michael Biehn och Milo Ventimiglia, och kanske är det därför som den inte känns som en tvättäkta B-film. The Divide känns genomtänkt och annorlunda då den visar upp hur långt människan kan gå under pressande situationer och att det inte krävs så mycket för att det ska slå runt i huvudet på oss.
Åtta överlevare i en isolerad källare
. 
The Divide är en rätt så mörk historia om en kärnvapenattack som har ödelagt hela New York och de få som har överlevt har nu tagit skydd i en källare, och när vi kommer en bit in i filmen så inser man också att det hade varit bäst att dö i smällen än att överleva i den isolerade tillvaron. Det är mörkt, trångt, blodigt och obehagligt och detta tack vare hur människorna reagerar och utvecklas i isoleringen. De åtta överlevarna lever tätt inpå varandra i den isolerade tillvara där bristen på mat, vatten och frihet förr eller senare kommer göra dom galna och hela tillvaron blir då ett dödligt hot. En efter en krossar de linjen och snart kan man inte lita på någon. Vem kommer dö och vem kommer överleva?
Vem kan man lita på?
The Divide innehåller kanske inte de bästa skådespelarna och även om vissa repliker levereras på ett inövat sätt så flyter det mesta på bra och trovärdigt. Galenskapen som karaktärerna sakta börjar visa upp må kanske vara något överdrivet men det känns ändå äkta och den mörka historian kommer därför till liv bra. Det blir grymt, blodigt, knäppt och obehagligt när den ena efter den andra börjar bete sig som sjuka rovdjur och även om allt kanske är lite överdrivet så gillar jag mörkret med filmen. Klaustrofobin kommer dessutom smygande lite smått i mörkret och även om jag hade velat tycka bättre om filmen så kan jag inte göra det. The Divide känns nämligen som en bättre B-film men B:et kommer den ändå inte ifrån.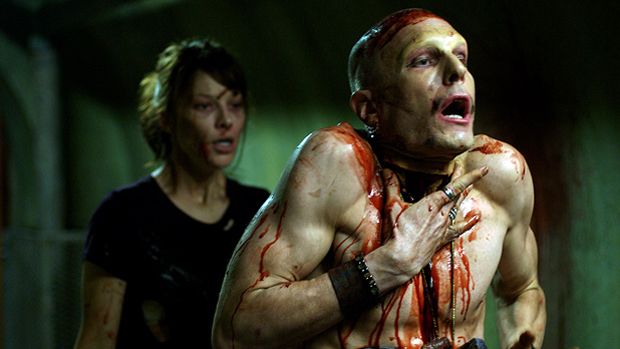 Förr eller senare kommer någon att brista och bli galen
.
FILMINFORMATION:
Originaltitel: The Divide.
Svensk titel: The Divide.
Taglines: "The lucky ones died in the blast" och "To survive the end of the world you must first survive each other".
Genre: Drama, Science Fiction, Thriller.
Skådespelare: Lauren German, Michael Biehn, Milo Ventimiglia, Courtney B. Vance, Ashton Holmes, Rosanna Arquette, Iván González, Michael Eklund, Abbey Thickson m.fl.
Regissör: Xavier Gens.
Filmmanus: Karl Mueller och Eron Sheean.
Speltid: 107 min (DVD).
Språk: Engelska.
Undertext: Engelska.
Land: Tyskland, USA, Kanada, Frankrike.
Åldersgräns: Barnförbjuden.
Premiärår / Utgivningsår: 2011.
Sv. Biopremiär: - .
Distributör: Momentum.
DVD-release: 14 Maj 2012.
Extramaterial (DVD): Behind the Scenes • Trailer.
Hyr filmen hos:
SF Anytime
.